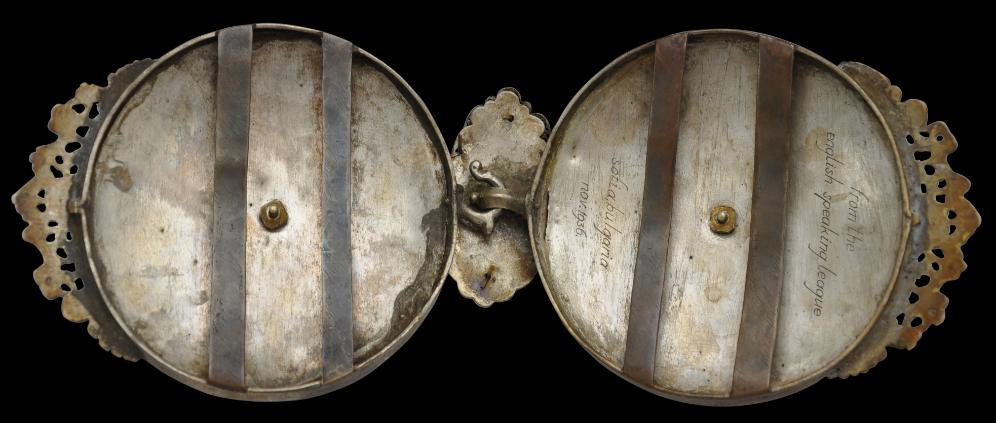 Inventory no.: 3613
Balkans Silver Filigree Buckle
SOLD
Large, Inscribed Silver & Gilded Silver Filigree Buckle
Ottoman Balkans
early 19th century
length: 30cm, height: 12cm, weight: 505g
This large belt buckle is very much in the Ottoman and Ottoman Greek style, a style that was also worn in the Ottoman Balkans. Ottoman empire rulers and warriors wore belts and elaborate, over-sized buckles as symbols of their power and rank. The fashion for such ostentatious belts was largely over by the mid-19th century.
Formed as two circular bosses of plain (non-gilded) silver alloy overlaid with gilded silver filigree work, each half of the buckle is further decorated with a raised central roundel also of filigree. A central component of lozenge form is similarly decorated. It is this part which hides the clasp on the reverse. Each side of the main component bosses is extended with pierced, gilded silver flanges decorated as rococo-inspired leaf and foliage work.
The reverse has been inscribed with the later inscription 'from the english speaking league, Sofia, Bulgaria, nov. 1936'.
The buckle is large and decorative. It is in excellent condition and is without obvious losses or repairs.
References
Koc, A., et al, Istanbul: The City and the Sultan, Nieuwe Kerk, 2007.
Provenance
UK art market
Inventory no.: 3613
SOLD