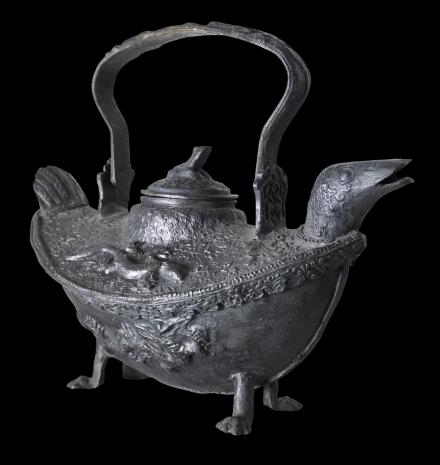 Inventory no.: 2507
Borneo Kendi
SOLD
Brass Zoomorphic Water Container (Kendi)
Borneo (Brunei/Sarawak)
19th century
height: 23.5cm,
length: 28cm
This unusual example of Malay brassware is designed to hold and pour water used for either hand washing prior to and after eating, and also for drinking.
Cat using the lost wax process, it is in the form of a boat-like, plump bird creature with a tail at one end and a spout in the form of a water bird head. It is further decorated with lizards and dragons amid water plants over its surface. The lid, which is present (often they are lost) has been cast with a frog finial.
The vessel sits on four short zoomorphic feet. The top of the handle is cast with two lizards.
Water containers and
kendis with similar motifs appear in Singh (1985) and Islamic Arts Museum Malaysia (2005, p. 203).
The example here is in a fine condition and has a lustrous dark patina.
References
Islamic Arts Museum Malaysia, The Message and the Monsoon: Islamic Art of Southeast Asia, IAMM Publications, 2005.
Singh, B.,
Malay Brassware, National Museum of Singapore, 1985.
Provenance
UK art market
Inventory no.: 2507
SOLD