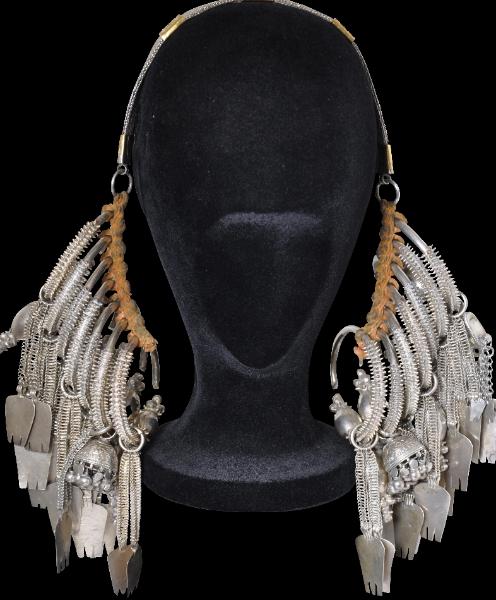 Inventory no.: 4012
Complete Silver & Gold Head Ornament, Oman, early 20th century
SOLD
Complete Silver & Gold Head Ornament
Oman
early 20th century
length across (approx.): 44cm, approx. length of ornaments: 21cm, weight: 1,310g
This spectacular, museum-worthy, complete headdress is of high-grade, solid silver and thin gold sheet. It comprises two bunches of ornaments at either end of a braided silver headband decorated with gold sheet plaques. The two groups of ornaments which would rest on either side of the head are kept in place by the original leather strapwork.
The ornaments include large, solid silver hoops decorated with silver spikes, perhaps based on thistle-like seed pods; large, elongated silver 'pods' with berry-like finials that are probably based on mulberries; dangling silver plaques based on the 'hand of Fatimah' motif; and an amulet box (
hirz), decorated with gold plaques.
The headdress is worn with the silver and gold strap being balanced over the top of the head and being held in place by the weight of the silver ornaments on either side of the head (in total, the headdress weighs more than 1.3 kilograms).
Such an extravagant and costly headdress would have been worn on important ceremonial occasions such as festivities associated with weddings.
References
Hawley, R., Omani Silver, Longman, 1978.
Hawley, R.,
Silver: The Traditional Art of Oman, Stacey International, 2000.
Rajab, J.S.,
Silver Jewellery of Oman, Tareq Rajab Museum, 1998.
Provenance
UK art market
Inventory no.: 4012
SOLD