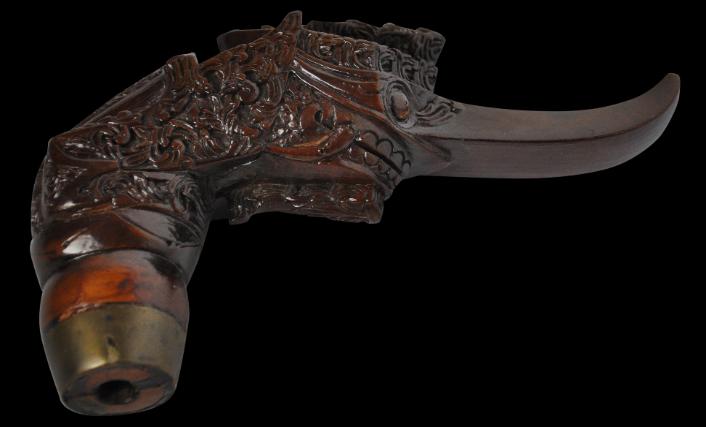 Inventory no.: 4556
Finely Carved Wooden Kris Hilt, Patani, Southern Thailand/Northern Malaysia, 19th century
SOLD
Finely Carved Wooden Kris Hilt
Patani, Southern Thailand/Northern Malaysia
19th century
height: 8cm, width: 14.5cm
The kris hilt would have come from a kris tajong. The hilt (hulu) is zoomorphic and long-nosed and is of a type that is synonymous with the Malays of the East Coast of the Malay Peninsula – the Kelantan-Terengganu-Pattani region. It is very finely carved with daun ketumbit motifs to the cheeks and body which is also carved with tajong spiral motifs. The head is thrust forwards and the open mouth – with a full set of teeth – grimaces with expectation. The nose is up-tilted.
According to Noor & Khoo (2003, p. 120) originally, the shape of the hilt was based on a representation of the Hindu god Shiva, as it was adapted for the god's characterisation in the
Wayang Kulit shadow puppet plays that were staged by Malay communities. Through the centuries and with the conversion of the Malays to Islam, the form became more stylised: facial features were replaced by carved floral flourishes and so on.
The hilt has a brass ring cup. It has been shellacked, and is in essentially perfection condition.
References
Noor, F. & E. Khoo, Spirit of Wood: The Art of Malay Woodcarving, Periplus, 2003.
Provenance
private collection, UK
Inventory no.: 4556
SOLD