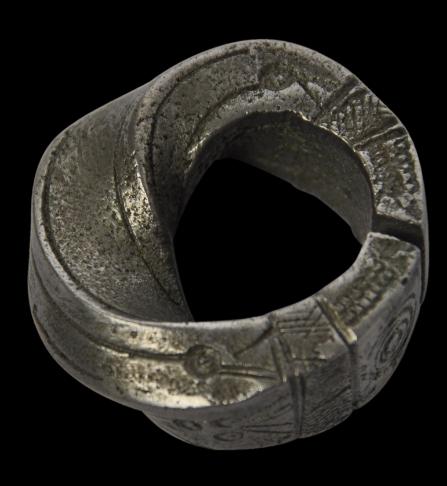 Inventory no.: 3714
Incised Silver Alloy Ring, Nigerian
SOLD
Incised 'Twist' Silver Alloy Ring
Nigeria
19th-early 20th century
exterior diameter: 3.5cm, interior diameter: 2cm, thickness: 1.4cm, weight: 69g
This large, thick, solid cast silver alloy ring is from Nigeria. It has a 'C' form, with the terminals almost touching. The main feature of the body is a twist, giving the ring much sculptural value. The surface has been further decorated with incised geometric designs.
A related ring attributed to Nigeria is illustrated in van Cutsem (2000, p. 80).
References
van Cutsem, A., A World of Rings: Africa, Asia, America, Skira, 2000.
Provenance
UK art market
Inventory no.: 3714
SOLD