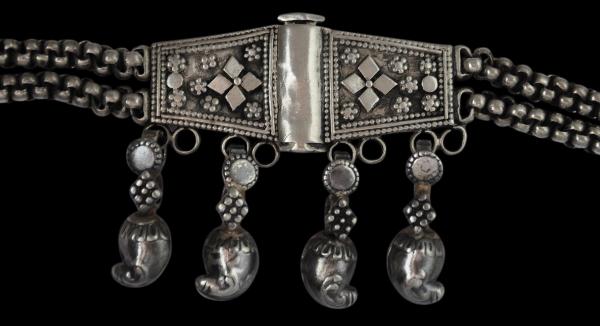 Inventory no.: 3674
Indian Kerala Silver Belt
SOLD
Silver Double-Strand Chain Belt & Buckle Silver Buckle
Kerala, South India
19th century
extended
length: 78cm, weight: 130g
This belt, which today could also be worn as a necklace, comprises a double strand of unusually high quality hand-fashioned silver chain, and a clasp buckle with a pin that allows the belt to be opened.
The clasp is of two equal trapezoid-shaped plaques with applied silver lozenges and other motifs. Four silver mangoes are suspended form the clasp. Mangoes are a typical motif in South India to convey fertility – an appropriate motif for a belt to be worn by a young women.
A related example is illustrated in Untracht (1997, p. 244).
The belt is in fine condition. There is some old tarnishing to the clasp. The double chain that comprises the belt is surprisingly heavy in the hand and of the highest quality.
References
Untracht, O., Traditional Jewelry of India, Thames & Hudson, 1997.
Provenance
UK art market
Inventory no.: 3674
SOLD