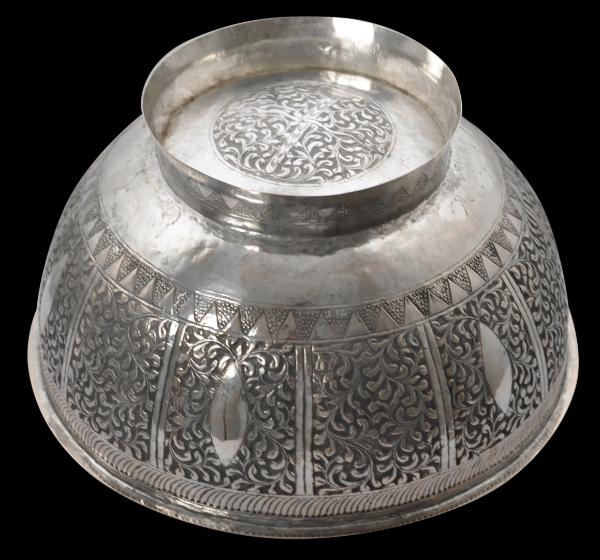 Inventory no.: 3289
Malay Silver Bowl
SOLD
Large, Chased Silver Bowl (Batil)
Malay People, Malaysia or Sumatra
19th century
height: 13.4cm, diameter: 25.3cm, weight: 251g
This large, wide silver bowl is Malay, either from the Malay Peninsula or Indonesia's Riau archipelago, just beneath the Malay Peninsular (and Singapore) and nominally part of Sumatra.
It is very light and made of remarkably thin hammered silver sheet. The cleverness is in how thin the silver has been worked. Such bowls often were used at ritualised, public events such as weddings and were designed to be seen rather than handled. As such, the silversmith was required to produce large items but with an economical use of silver.
It sits on a low, splayed foot, and comprises a semi-sphere with a lipped edge.
The sides are engraved with alternating panels of scrolling tendrils and srolling tendrils interspersed with a plain elongated lozenge. Such patterning is typical of Islamic-inspired Malay silversmithing.
The exterior base is decorated with a roundel that includes a traditional Malay
kris sword crossed with a scabbard.
The bowl is in a fine condition. It is bright and dent-free. There are some minor splits visible when the bowl is held up to the light but these are stable and consistent with the thinness of the silver.
References
Ling Roth, H., Oriental Silverwork: Malay and Chinese, Truslove & Hanson, 1910.Provenance:
UK art market
Inventory no.: 3289
SOLD