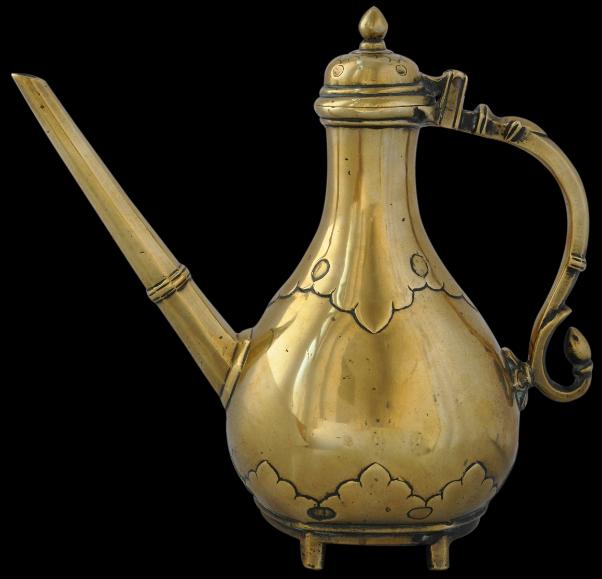 Inventory no.: 1570
Mughal Indian Ewer
SOLD
Brass Ewer (Aftaba)
North India
18th century
height: 27cm, width: 27.5cm, weight: 2,149g
This fine brass ewer or kettle (aftaba) has a prominent faceted spout; its original lid with a bud-like finial; an 'S' shaped handle which has a stylised lion head at one end and ends in a lotus bud finial at the other; and stands firmly on four short feet.
The flattened, globular pear or tear shaped body tapers to a long neck. The body has been cast with raised cloud or foliage-like borders to the top and bottom, providing a small and elegant measure of artistry to an otherwise simple, plain surface. The lid has been cast with similar patterns.
Ewers of this type have their origins in Persia and the Middle East. Typical Islamic ewers comprised a central chamber to which a spout, foot, handle and neck were attached. They permitted water to flow – Koranic injunctions deemed flowing water to be 'clean'. Ewers were introduced to India by Muslim invaders during the late thirteenth and early fourteenth centuries. Thereafter their designs were Indianised – the ewers became more curvaceous and many were decorated with lush plant and floral motifs.
In India, local Muslims used such vessels for handwashing. They became a practical tool of hospitality, being used to welcome visitors by pouring scented water over the hands and feet and into a basin, and took on a great variety of shapes and types whilst adhering to the basic ewer form.
This example is in excellent condition. There are no repairs, splits or dents. as mentioned, the lid is original – these are missing or replaced in many extant piece. Overall, this is a fine, decorative object with a strong presence.
References
Zebrowski, M., Gold, Silver & Bronze from Mughal India, Alexandria Press, 1997.
Inventory no.: 1570
SOLD