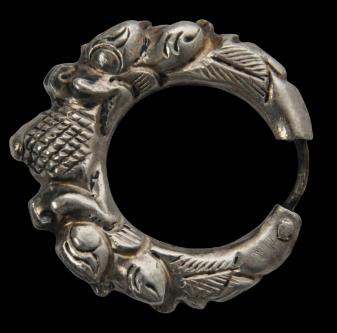 Inventory no.: 3596
Newar Silver Earrings, Nepal
SOLD
Pair of Repoussed Silver Earrings
Newar People, Nepal
late 19th-20th century
diameter across: 2.5cm, combined weight: 5g
These hollow silver earrings are similar to the hollow silver anklets that were worn by married Newar women until the birth of their first child. Like the anklets, they are of hoop form and each comprises two stylised dragon bodies with pointy, leaf-like scales. The central sections between the dragons comprises a sphere with engraved cross-hatching.
Anklets of related form are illustrated in Hoek
et al (2004, p. 180).
The earrings here are in fine condition and are without dents or losses.
References
Hoek, C., et al, Ethnic Jewellery: From Africa, Asia and Pacific Islands, Pepin Press, 2004.
Provenance
UK art market
Inventory no.: 3596
SOLD
here