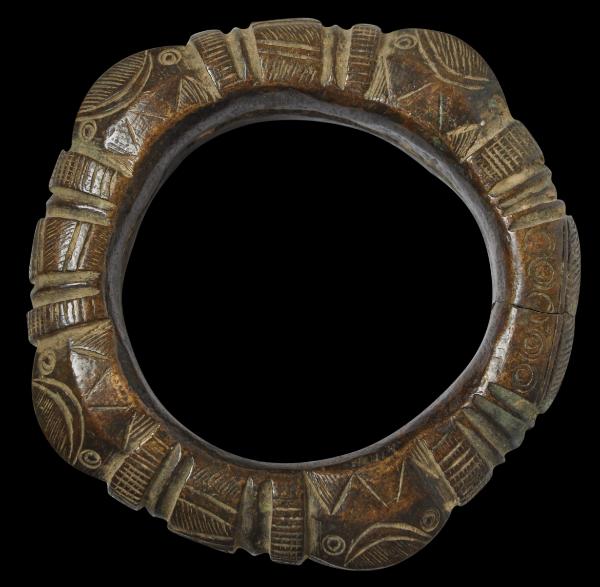 Inventory no.: 3116
Nigerian Bronze Bangles
SOLD
Solid-Cast Bronze Armlets or Bangles
Nigeria, possibly Igbo People
18th or 19th century
diameter: 9.5cm, combined weight: 1,081g
This pair of heavy bracelets cast from solid bronze are from West Africa, probably from Nigeria or Benin. Each is cast with what appears to be highly stylised zoomorphic masks of or faces, and are incised with further details.
They have a splendid varying chocolate patina and are in excellent condition.
References
Cole, H.M., Visions of Africa: Igbo, 5 Continents, 2013.
Pitt-Rivers, A.,
Antique Woks of Art from Benin, Dover Publications, 1976.
Plankensteiner, B.,
Benin Kings and Rituals: Court Arts from Nigeria, Snoeck Publishers, 2007.
Provenance
acquired from the estate of Dr Peter Sharratt (d. 2014). Sharratt was a linguist and lecturer in the School of Literatures, Languages and Cultures at the University of Edinburgh who published on Renaissance French sculpture. In his private life, he was an avid collector of tribal art, building up his collection over fifty years. During that time, he bought from UK dealers, collectors and auction houses.
Inventory no.: 3116
SOLD
here