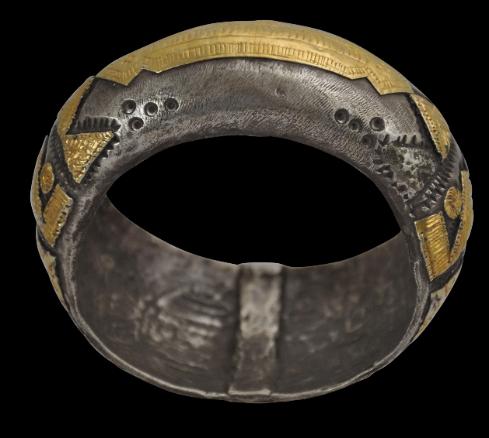 Inventory no.: 3574
Oman Silver & Gold Bracelets
SOLD
Pair of Silver & Gold Bracelets
Ibri, Oman
first half of the 20th century
external diameter at widest point: 8.5cm, internal diameter at smallest point: 5.5cm, combined weight: 310g
Bracelets or bangles such as these typically were worn by married women. They comprise chased silver alloy hoops that are wider at the front than they are at the back. They have been chased with geometric motifs and then thin gold sheet has been hammered over the raised sections.
See van Cutsem (2002, p. 144) and Rajab (1998, p. 64) for related examples.
The two are in fine condition with only one small area of loss to the lower edge of the front of one of the bracelets.
References
van Cutsem, A., A World of Bracelets: Africa, Asia, Oceania, America, Skira, 2002.
Rajab, J.S.,
Silver Jewellery of Oman, Tareq Rajab Museum, 1998.
Provenance
UK art market
Inventory no.: 3574
SOLD