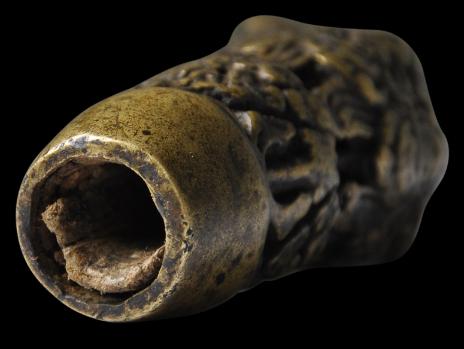 Inventory no.: 4555
Rare Stylised Ganesh Brass Kris Hilt Sumatra, Indonesia 17th century or earlier
SOLD
Rare Stylised Ganesh Brass Kris Hilt
South Sumatra, Indonesia
17th century or earlier
length: 8.5cm, weight: 177g
This unusual kris hilt has been cast and then chiselled from brass. The form is that of a highly stylised Ganesh, the Hindu elephant-headed god, which is a son of Shiva. This underlying form is a reminder of the influence of India and Hinduism on the Indonesian archipelago even after the arrival of Islam.
The hilt is decorated over much of its surface with foliate scrollwork. Some of it is pierced adding to the overall complexity.
The contours of the surface have been worn smooth by age and handling. The surface has a honeyed, golden patina. There are remnants of wood inside the shaft opening.
A related Sumatran hilt in gold is illustrated in Ghiringhelli (2011, p. 110-111).
Early, metal
kris hilts are rare. The example here is in fine condition.
References
Ghiringhelli, V., Kris Hilts: Masterpieces of South-East Asian Art, 5 Continents, 2011.
R. Hales, pers.comm.
Provenance
private collection, UK
Inventory no.: 4555
SOLD