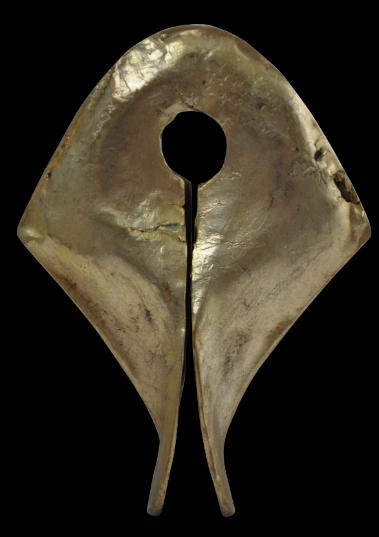 Inventory no.: 4191
Silver-Gilt Mamuli Pendant, East Sumba, Indonesia, circa 19th century
SOLD
Silver-Gilt Mamuli Pendant
East Sumba, Indonesia
circa 19th century
height: 7.5cm, width: 5.3cm, weight: 24.8
This example of a mamuli pendant from East Sumba in Eastern Indonesia is of gilded or gold-plated silver. Such pendants tended to be made either from gold of gilded silver. (See Meulenbeld (1988, p. 188) for a silver-gilt mamuli.)
The pendant is hollow but essentially the same on both sides. It is believed that such pendants evoke the imagery of the female genitalia. More elaborate examples were not worn but used for ritual purposes only. The more simpler examples such as the example here were worn suspended from the neck or ears and were worn at important festivities.
The example here is in a fine, wearable condition.
References
Benitez-Johannot, P. (ed.), Paths of Origins: The Austronesian Heritage in the Collections of the National Museum of the Philippines, the Museum Nasional Indonesia and the Netherlands Rijksmuseum voor Volkenkunde, ArtPostAsia, 2007.
Meulenbeld, B.C.,
et al, Budaya Indonesia: Arts and Crafts in Indonesia, Tropenmuseum, 1988.
Richter, A.,
The Jewelry of Southeast Asia, Thames & Hudson, 2000.
Richter, A., & B. Carpenter,
Gold Jewellery of the Indonesian Archipelago, Editions Didier Millet, 2012.
Rodgers, S.,
Power and Gold: Jewelry from Indonesia, Malaysia and the Philippines, The Barbier-Mueller Museum, Geneva, 3rd ed. 1995.
Provenance
private collection, London
Inventory no.: 4191
SOLD
here