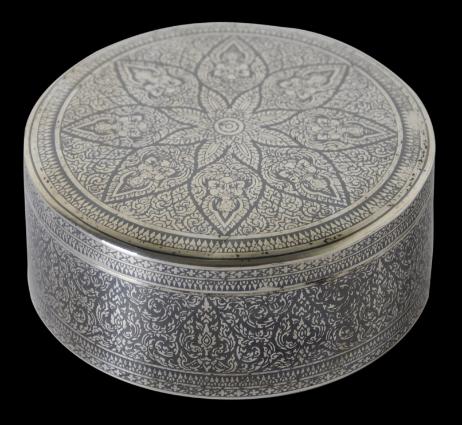 Inventory no.: 4088
Silver Niello Circular Box & Cover, Thailand, circa 1940
SOLD
Silver Niello Circular Box & Cover
Thailand
circa 1940
diameter: 7.9cm, height: 3.4cm, weight: 188g
This round silver box and cover is decorated with extremely fine niello work. The lid is decorated with a flower-like motif with each main petal being decorated in turn with a thepanom figure. (The thepanom is a celestial being from Buddhist cosmology.)
The sides of the box are decorated with very fine flame or
kranok motifs.
The base has what is likely to be a small retailer's or maker's mark in Thai script.
The niello technique, whereby silver is chased and then coated in a black enamel-like substance that is then buffed back to reveal the raised silverwork beneath, is thought to have been introduced to Thailand either by the Portuguese or the Persians. Traders from both countries had an early presence in the Kingdom. Niello work became a speciality of the southern Thai city of Nakhon Si Thammarat.
The box is in fine condition. There are no repairs or dents and the lid closes tightly.
References
Fraser-Lu, S., Silverware of South-East Asia, Oxford University Press, 1989.
Byachrananda, J.,
Thai Mother-of Pearl Inlay, River Books, 2001.
Naengnoi Punjabhan,
Silverware in Thailand, Rerngrom Publishing, 1991.
Provenance
UK art market
Inventory no.: 4088
SOLD