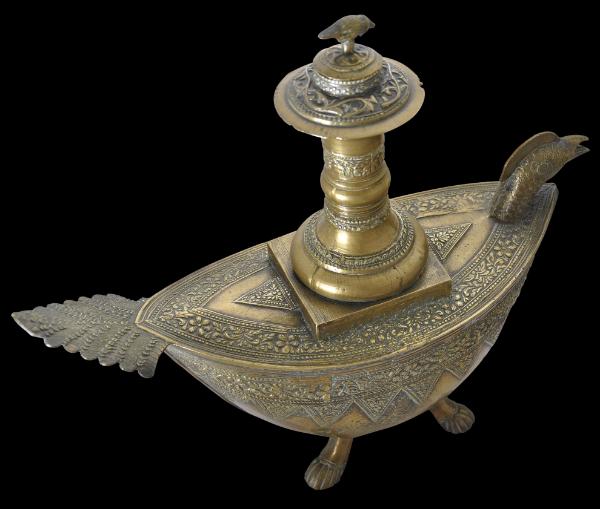 Inventory no.: 2392
Sumatran Brassware
SOLD
Zoomorphic Cast Brass Kendi
Minangkabau People, West Sumatra, Indonesia
circa 1900
length: 36cm, height: 33cm
This very fine example of Sumatran brassware is designed to hold and pour water for either hand washing or drinking. In the form of a stylised, plump rooster, it is one of the most pleasing forms produced by the Minangkabau brass casters of West Sumatra.
Cast using the lost wax process, it features repeated stylised bamboo shoots (
pucuk rebung) filled with floral motifs and various other borders of flowers and geometric designs. It has a boat-shaped body with four zoomorphic feet, a bird-like head which emits water from the slightly open beak when poured, and a feather-like tail.
Water is poured into the vessel via the central stem which has an aperture at the top, which has a lid surmounted by a small bird finial. The top of the body of the vessel is beautifully cast with
pucuk rebung motifs arrayed as an elongated star around the square platform that supports the central stem.Pucuk rebung motifs are an identifying characteristic of Malay and Sumatran brassware. They are also commonly used in Malay textile design and woodwork.
Water containers and
kendis of this form and with similar motifs are illustrated in Jasper & Pirngadie (1930, p. 97), Singh (1985, p. 24) and Islamic Arts Museum Malaysia (2005, p. 203).
See Meulenbeld
et al (1988, p. 24) for an almost identical example in the Tropenmuseum, Amsterdam.
The example here is in fine condition. It has the usual small flaws typical of Minangkabau brasswork and a fine patina. Unusually, it retains its original lid.
References
Islamic Arts Museum Malaysia, The Message and the Monsoon: Islamic Art of Southeast Asia, IAMM Publications, 2005.
Jasper, J.E. & Pirngadie,
De Inlandsche Kunstnijverheid in Nederlandsch Indie V: de Bewerking van Niet-Edele Metalen, 1930 (reprinted 2009 by Sidestone Press, Leiden).
Meulenbeld, B.C.,
et al, Budaya Indoensia: Arts and Crafts in Indonesia, Tropenmuseum, 1988.
Singh, B.,
Malay Brassware, National Museum of Singapore, 1985.
Provenance
UK art market
Inventory no.: 2392
SOLD
to see other examples of Malay and Sumatran brassware.