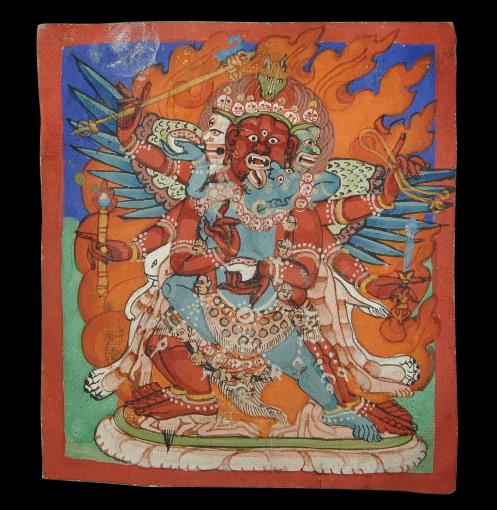 Inventory no.: 2951
Tibetan Ga'u
SOLD
Silver & Copper Amulet Box (Ga'u) with Enclosed Tsakli of Mahakala
Tibet
19th century
height: 10cm, width (including lugs): 10cm, thickness: 3.2cm
This fine example of a ga'u or portable talismanic shrine or box is of trefoil shape and comprises a silver-alloy front, two pairs of applied side lugs, and a copper back plate. The front is decorated with scrolling foliage and buds around a pierced, arched 'window' through which a Tibetan Buddhist miniature painting on canvas (a tsakli) which depicts Mahakala can be seen. (The reverse of the tsakli is marked with several syllables of lantsa script.)
Mahakala exists in various forms. The form here is the six-armed Mahakala, which is favoured by the Gelug order of Tibetan Buddhism. This manifestation is considered to be a fierce and powerful emanation of Avalokitesvara, the bodhisattva of compassion.
The other contents of the
ga'u also include various cloth fragments, a small package of what seems to be crumbled sandalwood incense, and a small square of paper stamped with talismanic text.Ga'us are encountered only in Tibet or areas influenced by Tibetan Buddhism, such as Bhutan. No other Buddhist regions have anything like them. They were worn when travel was undertaken but otherwise were stored on the domestic altar.
The example here is in fine condition, and is particularly attractive on account of it having retained its
tsakli image of Mahakala.
References
Clarke, J., Jewellery of Tibet and the Himalayas, V&A Publications, 2004.
Pal, P.,
Art of the Himalayas: Treasures from Nepal and Tibet, Hudson Hills Press, 1991.
Proser, A., (ed.),
Pilgrimage and Buddhist Art, Asia Society Museum/Yale University Press, 2010.Provenance:
UK art market
Inventory no.: 2951
here