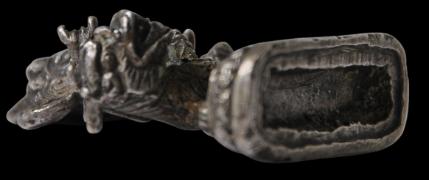 Inventory no.: 3686
Tibetan Silver Jambhala
SOLD
Cast Silver White Jambhala
Amdo Region, North-Eastern Tibet
19th century
height: 4.2cm, width: 3.4cm, weight: 49g
This small, solid cast image of the White Jambhala (or Dzambhala Gapee in Tibetan), is of solid silver. Thei deity has a tall headdress, ribbons flow from his head and his body is incised with jewellery.
He sits on a horned dragon (more typically, his mount is a snow lion) with a scaly body, which stands on a platform with sides cast with lotus petals.
The White Jambhala is the compassionate manifestation of the Bodhisattva Chenrezig (Kuan Yin). He can remove the suffering from poverty and sickness.
See Meinert (2011, p. 657) for a similar example, 5.5cm high and cast in bronze.
The example here is in a fine condition without losses or repairs.
References
Meinert, C. (ed.), Buddha in the Yurt: Buddhist Art from Mongolia, Vols 1& 2, Hirmer, 2011.
Provenance
UK art market
Inventory no.: 3686
SOLD