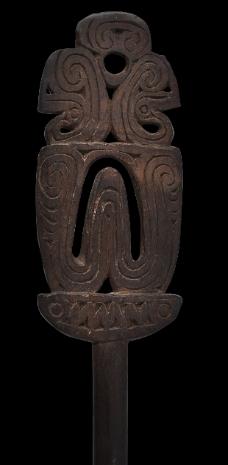 Inventory no.: 1651
Tobriand Lime Spatula
SOLD
Carved, Wooden Lime Spatula
Tobriand Islands, Papua New Guinea
early 20th century
length: 39.5cm
This light-weight dark-wood spatula, once used to extract lime from a bone or bamboo lime container has a handle finial that is finely carved as two stylised humanoid figures, incised with scrolls.
The stem is long and thin and finishes with a flattened spoon end.
The spatula has an excellent glossy patina and a spoon-end thinned from use.
The spatula is from the Trobriand Islands (now known as the Kiriwina Islands), located to the east of Papua New Guinea. Trobriand lime spatulas are among the most beautiful and elegant sculptural carvings in Melanesia.
Lime was used in the preparation of betel which was chewed as a mild narcotic, and was an integral part of life in the Massim area. The spatulas were used to remove powdered lime from the lime container. The lime was carried to the mouth and taken from the end of the spatula. The lime, when mixed with chewed betel in the mouth, produced a mild euphoria.
Provenance
UK art market
References
Kaeppler, A. L., C. Kaufmann & D. Newton, Oceanic Art, Abrams, 1997.
Meyer, A. J. P.,
Oceanic Art, Könemann, 1995.
Peltier, P. & F. Morin,
Shadows of New Guinea: Art from the Great Island of Oceania in the Barbier-Mueller Collections, Somogy, 2007.
Wardwell, A.,
Island Ancestors: Oceanic Art from the Masco Collection, Detroit Institute of Arts, 1994.
Inventory no.: 1651
SOLD