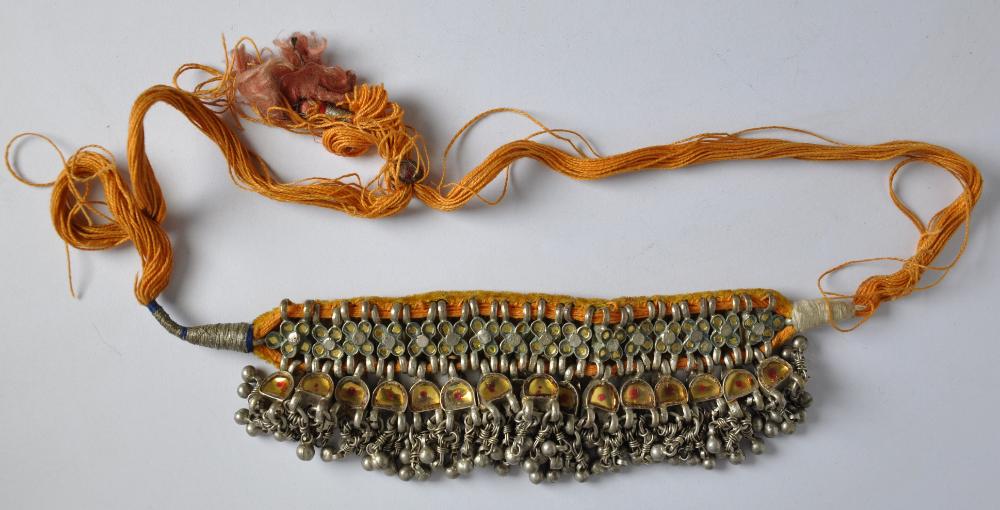 Inventory no.: 3573
Uttar Pradesh Indian Silver Necklace
SOLD
Silver Choker Necklace set with Foil-Backed Glass
Uttar Pradesh, India
early 20th century
length of central ornament: 17cm, weight: 138g
This silver choker suspended from saffron yellow cotton cord and textile is of multiple suspended elements set with foil-backed clear glass 'stones'. Each of the larger suspended 'stones' has a central, auspicious red dot or tikka, applied under the glass, mirroring the red tikka that the wearer might have on her forehead.
The necklace is secured at either end by thread that has been twisted around and around. The original gold thread is present at one end. at the other, this has been replaced by cream cotton thread.
A related example is illustrated in Untracht (1997, p. 231).
The necklace itself is in a fine and wearable condition.
References
Untracht, O., Traditional Jewelry of India, Thames & Hudson, 1997.
Provenance
UK art market
Inventory no.: 3573
SOLD