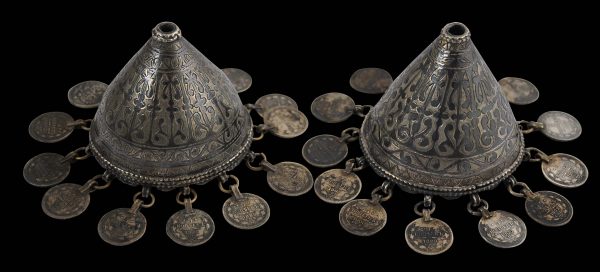 3763
Enquire about Inv No:3763
Dagestan Niello Silver Ear Ornaments with Russian Kopeks
Dagestan, Northern Caucasus, Russia circa 1905
height: 7.5cm, diameter: 5cm, combined weight: 113g
This pair of ear or headdress ornaments is of silver that has been decorated with scrolling niello work. Each is of cone shape with twelve silver coins suspended form the rim of the cone. The coins, all in fine condition other than having been pierced with a hole for suspension, are Russian silver 5 kopeks
Each is further decorated with fine bands of pearled silver wire at the top and bottom of the cone.
There are 24 kopeks in total, having the following dates: 1847 (1), 1884 (1), 1885 (1), 1886 (1), 1889 (4), 1890 (1), 1900 (2), 1901 (1), 1902 (5), 1903 (1), 1905 (6).
See Borel (1994, p. 132) for other examples of Dagestan niello silver jewellery, one item of which also incorporates Russian kopeks.
Dagestan today is a federal republic within the Russia federation. It is located in the North Caucasus region, on the Caspian Sea, and it borders the Republic of Kalmykia, the Chechen Republic, and Stavropol Krai within the Russian federation, and also Azerbaijan and Georgia. More than 80% of the inhabitants are Moslem.
Other than for tarnishing particularly to the suspended coins, the ornaments are in excellent condition, with fine patina.
References
Borel, F., The Splendour of Ethnic Jewelry: From the Colette and Jean-Pierre Ghysels Collection, Thames & Hudson, 1994.