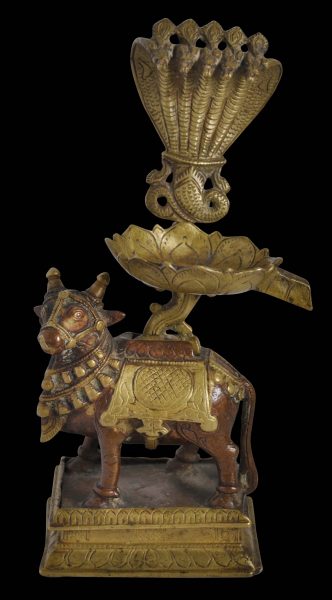 4944
Enquiry about object: 4944
Nandi Lamp in Brass & Bronze (Ganga-Jumna)
Tamil Nadu, South India 18th-19th century
height: 17.2cm, width: 7.4cm
Provenance
Christie's New York; Collection of the (late) Paul Walter; and probably acquired by Walter in London.
This unusual lamp for puja (prayer) rituals, comprises a Nandi on a tiered, rectangular stand with a lotus flower lamp on its back and a cobra rearing over the lamp.
The Nandi, the vahana of Shiva, is elaborately decorated with copious bells and other decoration.
The cobra in this ensemble represents Vasuki, a giant naga (snake) from Hindu lore. Vasuki allowed the devas (gods) and the asuras (demons) to bind him to Mount Mandara and use him as their churning rope to extract the ambrosia of immortality from the ocean of milk. Shiva blessed Vasuki, and the naga became a symbol of Shiva subsequently.
The lamp well has an draining outlet. Alternatively a wick could be threaded through this and onto the well, with the wick sitting in an independent oil source. This might be more likely because the well sits at an angle. Another alternative is that the item was not intended to serve as a lamp but as an elaborate platform for a lingam (which would have represented Vishnu) which would have sat on the platform where it could be ritually bathed in milk and other offerings which would drain away via the outlet.
The ensemble is decorated in the Ganga-Jumna technique whereby it has been in high-copper-content bronze and finished with applied brass highlights. The term Ganga-Jumna relates to India's two largest rivers which traditionally have had two different colours on account of differing types of soil sediment suspended in their waters. This type of work was done in the 18th and 19th centuries in and around Tanjore (now known as Thanjavur), in Tamil Nadu, in southern India.
The item here is in fine condition. It pulls apart into four separate components all of which are present.
References
Mitchell, A.G., Hindu Gods and Goddesses, UBSPD, 1982.