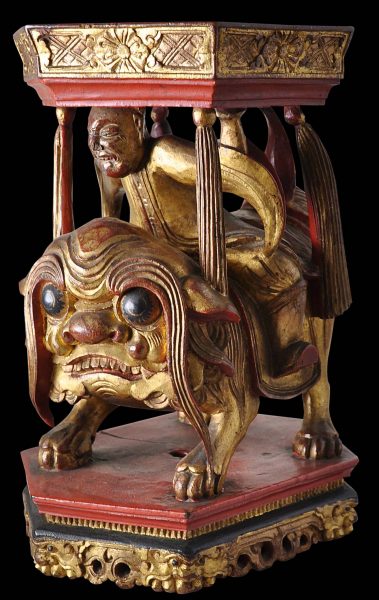 3884
Enquiry about object: 3884
Rare Straits Chinese 'Red & Gold' Oil Lamp Stand for Sam Kai Altar
probably Singapore or Malacca early 20th century
height: 23cm, width: 12cm, depth: 17cm
This whimsically and well-carved stand would have been one of a pair and was made to hold a glass oil lamp used to illuminate a Straits Chinese family's sam kai alter in the home. (The Straits Chinese or babas and nonyas are the localised Chinese of Malaysia and Singapore whose hybrid culture is a mixture of Malay and Chinese elements.)
Such lamps were known either as a lampu minyak (which is simply 'oil lamp' in Malay), or a pelita sam kai (or 'sam kai torch', in Malay/Hokkien). The base would have held a heavy, moulded glass goblet-shaped lamp.
The base is of carved namwood, most probably made in Singapore or one of the other Straits Settlements. It has been decorated in red and has been gilded, hence this type of work is known as 'red & gold'.
It is carved, probably, from a single piece of namwood, with a grimacing boy or man atop a qilin-type creature. In Chinese mythology, boy babies were brought to parents atop a qilin. Often such lamps were lit as part of a Straits Chinese wedding ritual, so lighting such a lamp was hopefully prophetic of the arrival of male children.
Two related lamp bases were offered by Christie's Singapore in their Straits Chinese Ceramics and Works of Art auctions of 30 September 1995, and 31 March 1996, lots 362 and 931 respectively.
The lamp base here is in good condition other than for a shrinkage-related crack on one side. It is possible that if the base were to return to Singapore or Malaysia with its greater humidity, that the crack will lessen of close-up over time.
References
Ee, R., et al, Peranakan Museum A-Z Guide, Asian Civilisations Museum, 2008.