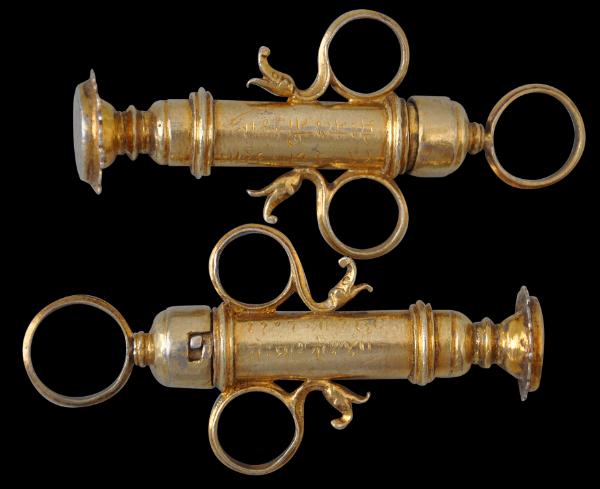 Inventory no.: 1360
Indian Silver Holi Sprinklers
SOLD
Two Inscribed Silver-gilt Holi Water Sprinklers
India
18th-19th century
length (each): 9.5cm, weight: 28g & 36g
These two fine silver-gilt (gold-plated silver) syringes (pichkari) were used at Holi, the Indian spring festival. They comprises a lotus flower-type head and nozzle that is perforated with fine holes. The sides of each cylinder have two prominent finger handles that curve around and finish with makara-like terminals. The internal plunger is pulled in and out of the tube to force water out the nozzle. The cap of each is secured by a bayonette fitting.
The tube of each is engraved with two lines of extensive devanagari script.
Both are in fine condition without losses or repairs. Both have a wonderful patina.
Holi is a popular spring festival, also called the 'Festival of Colours', and is celebrated around India. Bonfires are lit at night on the first day. And on the second day, known as Dhulandi, people throw or spray red-coloured powder and water on each other. People also invite one and other to their houses for feasts and celebrations late into the evening.
Originally, the colours used in the pichkaris came from the flowers of trees that blossomed during spring, such as the Indian Coral Tree and the Flame of the Forest. Both have bright red flowers. Most of the blossoms used were also believed to have medicinal properties. No longer are beautifully made metal pumps such as the one here used today. Instead, cheap plastic pumps are used. Often they are bought from street stalls. No longer do they contain natural colours but pre-mixed industrial dyes.
Several similar silver holi syringes are illustrated in Terlinden (1987, p. 87). These examples are attributed to Rajasthan.
References
Terlinden, C., Mughal Silver Magnificence, Antalga, 1987.
Provenance
from a UK private collection.
Inventory no.: 1360
SOLD
to see another example.