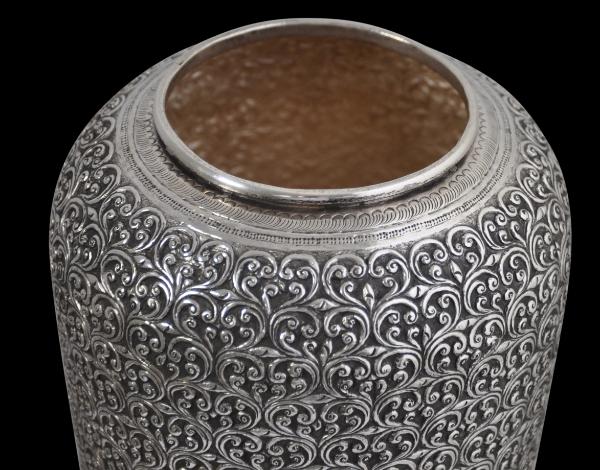 Inventory no.: 3439
Sri Lankan Silver Vase
SOLD
Unusual, Tall, Chased Silver Vase
Sri Lanka
circa 1920
height: 26cm, diameter: 12.5cm, weight: 553g
This is unusual vase, perhaps inspired by the form of Japanese porcelain vases, is of silver that has been chased all over with a typical interlocking Ceylonese trellis pattern, known as a tundan veda pattern, itself inspired by the leafy vines and creepers of Sri Lanka's tropical interior.
The mouth has a low, founded lip, which is surrounded by an engraved lotus petal border, known as the
pala-peti motif which is also seen on the moonstone platforms at the entrance of many Sri Lankan Buddhist temples.
Most likely the product of Kandyan silversmiths, there are no maker's or other similar marks. The vase is in perfect condition. It is tall, striking and sculptural.
References
Coomaraswamy, A.K., Mediaeval Sinhalese Art, Pantheon Books, 1956 reprint of the 1908 edition.Provenance:
UK art market
Inventory no.: 3439
SOLD