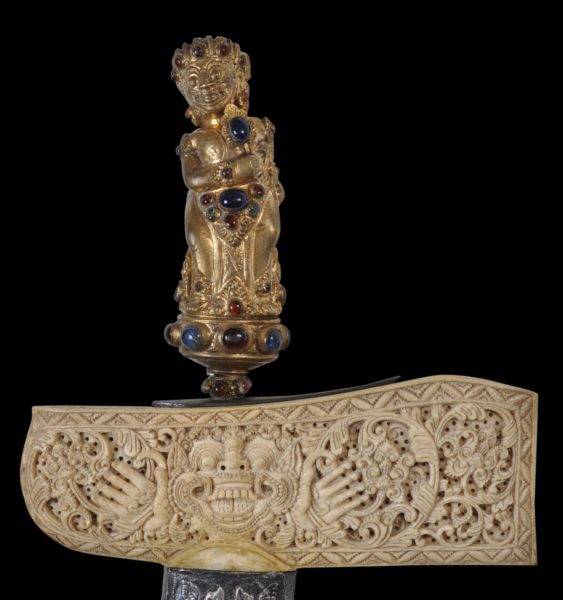 5982
Enquiry about object: 5982
Balinese Gilt, Silver & Carved Ivory Kris
Bali, Indonesia early 20th century
full length: 67cm, weight: 907g
– scroll down to see further images –
This kris or wavy-bladed sword is a very fine example of colonial-influenced decorative work that was being undertaken in Bali around 1920. The kris has an ivory wrangka or hand-guard which is finely carved on both sides with central protective monster mask (known on Bali as a karang bhoma and in India as a kirtimuka) amid floral and foliate scrollwork.
The rest of the scabbard is of wood and is encased in fine silver sheet that has been chased on the front side with magnificent leafy scrollwork with stylised cross-hatched clove motifs. The reverse of the scabbard is similarly decorated to the to quarter and with a small section near the chape or end. The mid section is plain other than for a finely engraved image of a princely character from the Balinese version of the Ramayana – probably Arjuna.
The courtly-style hilt is in the form of a demon (raksasa) figure. It is of gilded (gold-plated) copper and is inset with multiple coloured foil-backed stone and glass cabochons.
The blade has a light pamor pattern. Pamor iron is achieved by hammering and folding sheets of molten iron and nicklel until the resulting blade has a fine, watered appearance. Such pamor designs imbue the kris with magical powers. Such blades were produced by kris-smiths (empus) – a role that combined blacksmithing with Balinese mysticism.
There are typical, old stains to the blade but otherwise the kris is in excellent condition and is without losses.
A similar example is illustrated in Caravana (2010, p. 176), which notes also that another example is to be found in Istanbul's Military Museum. Two other related examples are illustrated in Bali's Neka Museum and illustrated in Neka & Yuwono (2010, p. 114).
References
Caravana, J. et al, Rites of Power: Oriental Weapons: Collection of Jorge Caravana, Caleidoscopio, 2010.
Maxwell, R. et al, Bali: Island of the Gods, National Gallery of Australia, 2014.
Neka, S., & B.T. Yuwono, Keris Bali Bersejarah, Yayasan Dharma Seni Museum Neka, 2010.
Ramseyer, U., The Art and Culture of Bali, Oxford University Press, 1977.