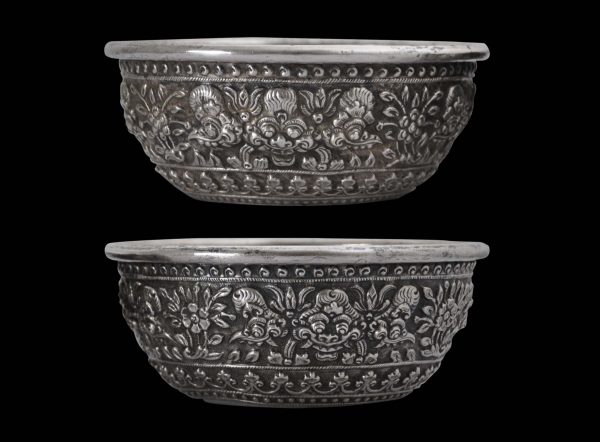 3957
Enquiry about object: 3957
Balinese Repoussed & Chased Silver Offering Bowls
Bali, Indonesia early 20th century
heights: 4.5cm, diameters: 11.6cm, combined weight: 211g
Provenance
Acquired in the UK, from the estate collection of Dr George Yuille Caldwell (1924-2016). Dr Caldwell, an English-born physician moved to Singapore in the 1950s, from where he built up a collection of ethnographica mostly from Borneo and Indonesia.
– scroll down to see further images –
This pair of silver bowls (bokor) have been repoussed all the way around their sides with garuda-like karang tapel head motifs and foliage and flowers. The bases have been engraved with floral sun-burst motifs. The rims are folded over and reinforced to give each bowl's structure more strength.
Such bowls were used to present floral and fruit offerings at a temple and at the altar of a family compound. They might have been piled high with offerings and then lighted incense sticks would be inserted as well. (Nowadays, a plastic or aluminium metal bowl will serve the purpose.)
The two bowls are a pair, however the motifs differ slightly, particularly the composition of thekareng tapel faces.
Both bowls are in fine condition and are free of repairs and dents.
References
Meulenbeld, B.C., et al,Budaya Indonesia: Arts and Crafts in Indonesia, Tropenmuseum, 1988.
Ramseyer, U., The Art and Culture of Bali, Oxford University Press, 1977.