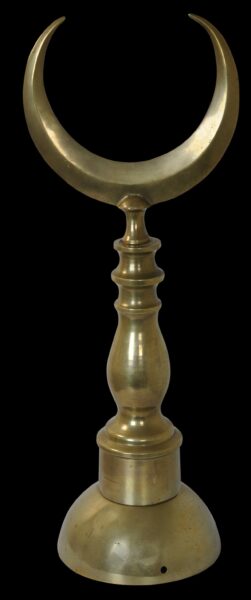 8777
Enquiry about object: 8777
Brass Crescent Mosque Dome Finial
Probably Northern Africa, possibly Egypt circa 1900
height: 49.2cm, width: 18.3cm, depth: 15.7cm, weight: 3,083g
– scroll down to see further images –
This cast brass crescent moon atop a turned brass baluster support was made to adorn the dome of a mosque. Such crescent moon finials were used widely in the Islamic world. This example probably is from northern Africa, possibly Egypt.
Why the crescent moon has been adopted as a symbol of Islam is unclear (the new, full moon would be more appropriate.)
The crescent however has become associated with Islam across the world and with its many versions. It is said that the bakers of Vienna, baked a buttery bread to celebrate the city's defeat of the Ottomans who had laid siege to the city in 1683. The bread was in the form of a crescent – the emblem used by the Ottomans. This crescent-shaped bread was what we now know as the croissant.
The finial here is in fine condition. The upper section shows signs of age.