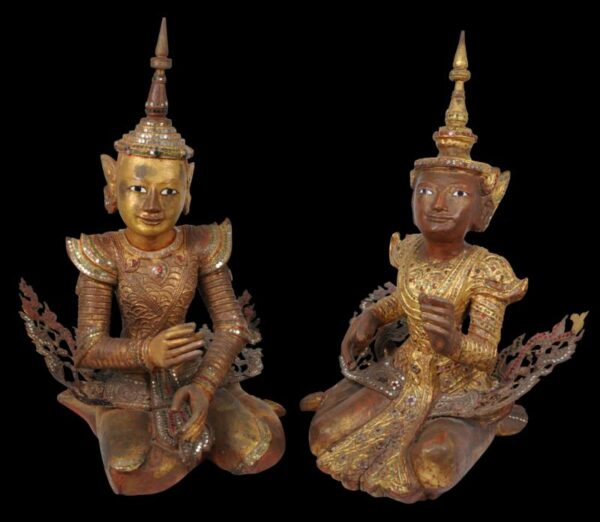 7320
Enquiry about object: 7320
Burmese Pair of Crouching Nat or Disciple Figures of Carved Wood & Gilded Lacquer
Burma, probably Mandalay circa mid-19th century
heights: approximately 46.5cm, combined weight: 5.6kg
This pair of figures is of gilded and polychrome lacquered carved wood with applied cut-out winged metal ornamentation. Each figure's dress is richly adorned with thayo work whereby lacquer putty is used to decorate the surface with fine ridges and extrusions and inset with red, green and silver foil-backed mirrored glass discs. The eyes are inset with white shell. Each wears a tall, pointed crown. The two are a true pair in that their stances are the mirror image of the other.
Each has a hand raised, either to teach or make a point, or possibly to hold something.
They sit with bare feet pointing backwards. The toes, like the fingers and facial features, are naturalistically rendered.
Each figure has a delicate, pleasing face; an expressive posture; and sculptural dynamism on account of the vibrant winged costume.
Probably the figures were commissioned to adorn a large shrine (hpaya khan). A similar figure adorns the spectacular shrine on display in London's Victoria & Albert Museum. Lowry (1974) suggests that such figures are the Indian deities Brahma or Indra (Sakka), both of whom played a role in the life of the Buddha. Or the figure might be unidentified nats. The V&A figure holds aloft a European-style glass lamp in his hands.
The condition of each is relatively good given their age and the materials from which they are made, though their extremities of their winged costumes are relatively fragile. There are losses to the gilded lacquer that overlays the metal sheet fretwork which comprises the 'wings' of the costumes.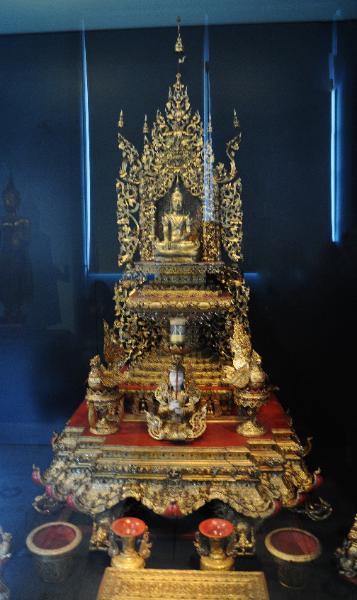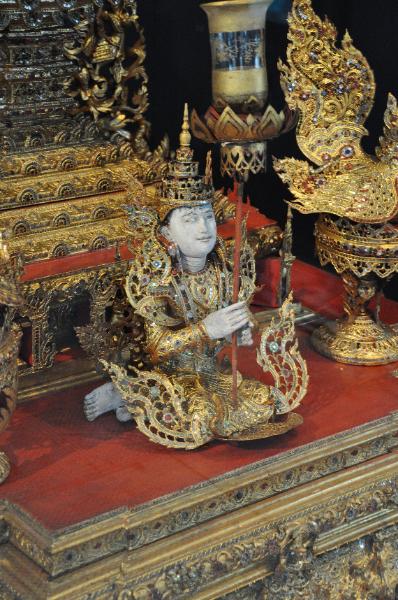 The Burmese gilded shrine in the Victoria & Albert Museum, and showing the nat-like figure described above.
References
Isaacs, R., & T.R. Blurton, Burma and the Art of Lacquer, River Books, 2000.
Lowry, J., Burmese Art, Victoria and Albert Museum, 1974.
Somkiart Lopetcharat, Myanmar Buddha: The Image and its History, Siam International Books Company, 2007.