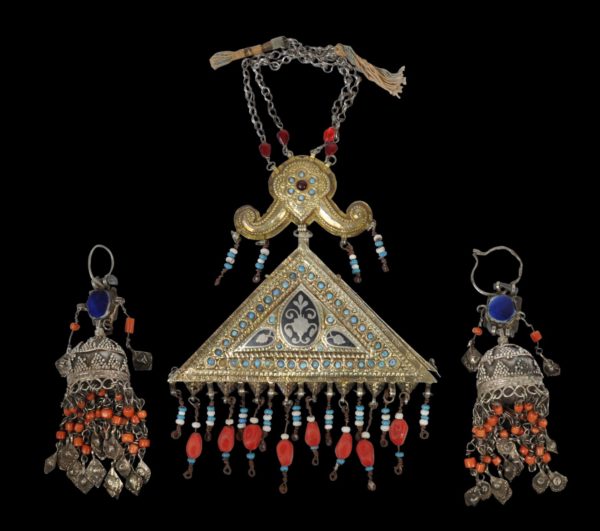 6051
Enquiry about object: 6051
Central Asian Gilded Silver Drop Earrings and a Pendant Gilded, Niello Amulet Case
Uzbek & Kyrgyz Peoples, Central Asia 19th century
length of amulet case: 10.6cm, height, including all chains: 22cm, lengths of earrings: 9.5cm, combined weight: 108g
Sold
– scroll down to see further images –
This pair of drop earrings and a pendant triangular amulet case are from Central Asia.
The earrings most probably from the Kyrgyz people. They are gilded and decorated with fine, applied silver granulation work arrayed in triangles. Pendant fringes of silver chains, spangles and coral beads. The body of each earring is suspended itself from a silver plaque inset with a large, flat plaque of blue stone or ceramic.
The silver amulet case is related and is either Kyrgyz or Uzbek. Known as a boyun tumar in Uzbek, it opens on one side to allow talismanic or protective Koranic scripture to be inserted inside. It is decorated with niello work on both sides and has been mercury-fire gilded (gold plated). One side has also been inset with an edging of small turquoise-blue beads and cabochons. (The other side might also have been inset with beads or was left unadorned.)  A fringe of white, red and blue glass beads is suspended from the lower edge of the case.
In turn, the case is suspended from a gilded silver branched plaque that is set with blue and red glass beads. Blue and white beads are suspended from this. Chains hold the plaque in place from above and each of these includes a red glass bead.
The final image here shows a related though probably later case currently on display in the British Museum.
Related jewellery is illustrated in Seiwert (2009, p. 203 & 218), and Geoffroy-Schneiter (2011, p. 68).
The examples here have obvious age. There are minor losses here and there, as indeed is the case with the published examples.
References
Geoffroy-Schneiter, B., Asian Jewellery: Ethnic Rings, Bracelets, Necklaces, Earrings, Belts, Head Ornaments, Skira, 2011.
Seiwert, W.D., Jewellery from the Orient: Treasures from the Bir Collection, Arnoldsche Art Publishers, 2009.