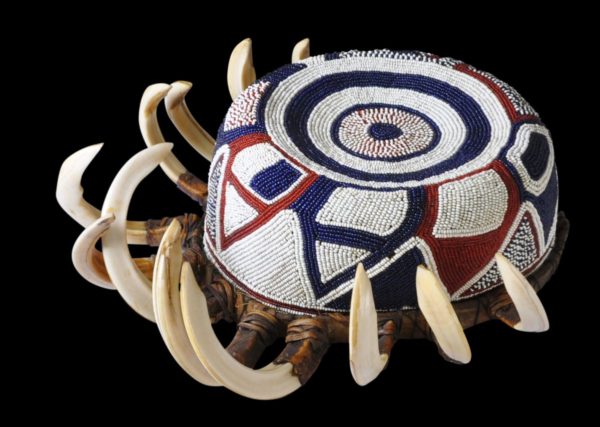 6132
Enquiry about object: 6132
Ceremonial Dayak Beaded Hat with Pig Tusks
Dayak People, Sarawak, Borneo, Malaysia 20th century
length: 29cm, width: 23cm, height: 9.5cm
– scroll down to see further images –
This fine and unusual hat is from the Dayak people of the island of Borneo, and island that is shared between Malaysia, Indonesia and Brunei. It comprises fine beadwork using irregularly-shaped white, red, and cobalt-blue European trade beads that are either Venetian or Dutch (Dutch makes sense given that the Netherlands was a colonial power on Borneo along with the British) and date to between 1880 and 1920.
The beading is over a cotton and rattan substrate.
The twelve wild pig tusks are attached to a strip of bark via rattan bindings. The strip wraps around the front of the hat and is attached to the hat by having been sewn onto the hat substrate. The pig tusk fringe appears to have been re-sewn onto the substrate but old remains of the original thread used to attach it do remain, and these threads have clear age.
The tusk fringe is similar to some necklaces made of tusk but the necklaces are not mounted on bark generally.
A beaded hat with a tusk fringe similar to that shown on the hat here and said to be used by Bahau Kenyah Dayak women and illustrated in Munan (2005, p. 33).
The hat is in an excellent stable condition. The beads, hat, tusks and rattan all have signs of age. Bead losses are minimal.
(The final image shows an early photograph of a Bahau Kenyah Dayak girl.)
References
Munan, H., Beads of Borneo, Editions Didier Millet, 2005.