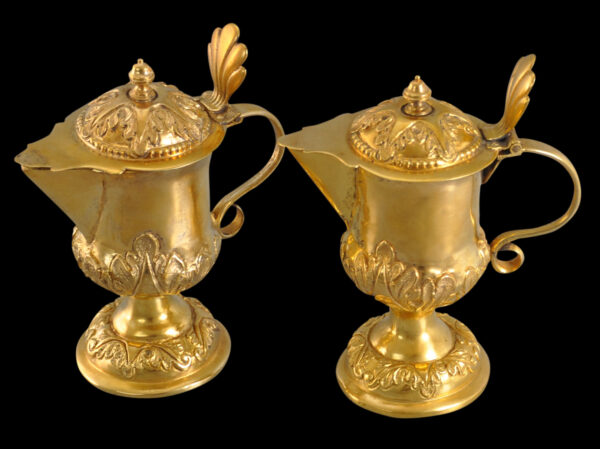 6847
Enquiry about object: 6847
Pair of Silver-Gilt Colonial Altar Cruets (Vinajeras)
Spanish or Portuguese Colonial, possibly Mexico circa 17th century
height: 11.2cm, combined weight: 309g
– scroll down to see further images –
This pair of fire-gilded silver cruets (known as vinajeras in Spanish) was commissioned by a wealthy church of or monastery. Cruets such as these were use used in the Catholic Holy Mass to hold water (aqua) and wine (vinum).
Each stands on a flared, domed, circular foot, has a baluster-form, globular body which flares to a spouted mouth with a hinged, domed cover. Each lid has an acorn-like finial and a leafy thumb press. Both have 'S'-form handles.
The feet, lids and lower bodies are chased with acanthus leaf borders with tooled detailing.
Both are well plated in gold, a result of mercury fire gilding.
Neither has maker's or assay marks. It is likely that they are the product of colonial silversmiths operating in Spain's or Portugal's Central or South American colonies.
The manner of their construction suggests a relatively early dating – probably 17th century.
It was common practice in Spain and Portugal's colonies for ecclesiastic silver items to be commissioned from local artisans, cruets among them. The Museu Nacional de Soares de Reis in Porto, Portugal has a splendid pair or cruets of nephrite inlaid with gold and semi-precious stones from seventeenth or eighteenth century Mughal India and another pair in engraved silver and with applied Chinese characters. These are obviously of Chinese craftsmanship and most probably are from mainland China or Macau but also from Chinese silversmiths operating in Manila. Many cruets were produced by local smiths in South America too. Taullard (2004) shows several sets in silver that are the product of local smiths in Peru during Spanish colonial times. Others were produced in colonial India. The Museum of Christian Art in Rachol, Goa, has a pair that is completely covered in the fine floral scrolling that is synonymous with Kutch silverwork. The pair is  illustrated in Museum of Christian Art (1993).
Overall, the pair of cruets here are in excellent condition. The gilding has taken on a soft hue which comes with age.
References
del Carmen Heredia Moreno, M., M. de Orve Sivatte, & A. de Orbe Sivatte, Arte Hispanoamericano en Navarra: Plata, Pintura y Escultura, Gobierno de Navarra, 1992.
Museum of Christian Art, Rachol, Goa, 1993.
Museu Nacional de Soares de Reis, Guide to the Collection, 2001.
Taullard, A., Plateria Sudemericana, Ediciones Espeula de Plata, 2004.