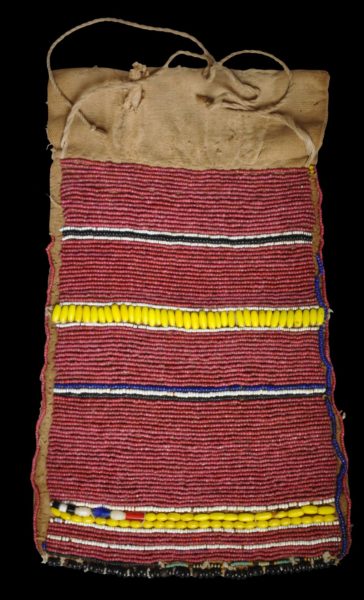 5759
Enquiry about object: 5759
Dayak Beaded Loin Cloth or Cache Sexe
Dayak People, Sarawak, Borneo, Malaysia early 20th century
27cm x 16.5cm
– scroll down to see further images –
This fine, old textile has been hand-stitched with dozens of rows of trade beads of different shapes, colours and sizes. The textile is of woven cotton from a hand loom. It has two strings at the top for attaching to the waist and would have been used as a loin cloth or genital cover (cache sexe) – possibly for a child.
The principal type of bead used is the small red white-heart bead that was produced in Venice. These beads were traded across the world and were particularly popular among the Dayak.
This example has obvious age and most of the beads are intact. It is a fine ethnographic piece that almost certainly arrived in the UK during the colonial era.
References
Chin, L., Cultural Heritage of Sarawak, Sarawak Museum, 1980.
Munan, H., Beads of Borneo, Editions Didier Millet, 2005.