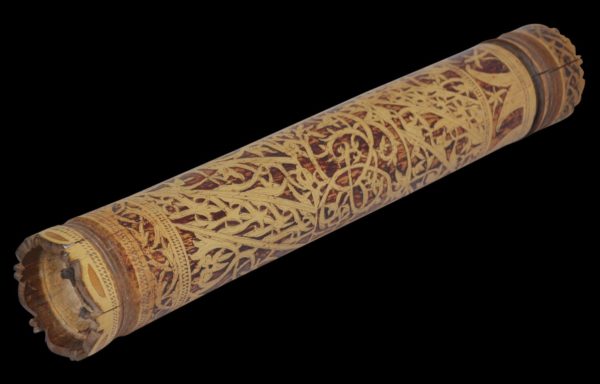 5816
Enquiry about object: 5816
Dayak Etched Bamboo Container
Iban (Dayak) People, Borneo, Sarawak, probably the Skrang River region, Malaysia early 20th century
length: 34cm, diameter: 5.5cm
Sold
Provenance
formerly in the collection of Henry Brownrigg, author of 'Betel Cutters. from the Samuel Eilenberg Collection' (Thames & Hudson, 1992); acquired from Christie's South Kensington in 2010; in the collection of Trevor Barton prior to that.
This bamboo container is from the Iban people, a sub-group of the Dayaks of Borneo. The motifs used to decorate it suggest it has come from the Skrang River area of Sarawak in the Malaysian section of Borneo Heppell et al (2005, p. 137).
The container comprises a tall section of hollow bamboo that has a natural closure at one end and a bamboo stopper at the other.
It is engraved all over with Malay-influenced scrollwork that has been coloured red-brown with a vegetable dye known as 'dragon's blood' (known to the Iban as jerenang) derived from the sap of a type of rattan palm of the Daemonorops species.
It has been etched with panels of fern and orchid motifs with upper and lower borders of dividers of zig-zag motifs which Heppell et al (2005, p. 137) describe as seberai sungei ('criss-crossing a stream'.)
Such a container might have served various uses including for the storage of powdered lime used in the betel quid, as a food container, and possibly as a document case.
The stopper no longer fully fits into the mouth of the container due to old shrinkage and there are the expected, superficial, short cracks to the bamboo here and there, but otherwise it is in a fine condition with a good patina and obvious age.
Similar examples are illustrated in Chin (1980, p. 86), Wentholt (2014, p. 114) and Heppell et al (2005, p. 137).
References
Chin, L., Cultural Heritage of Sarawak, Sarawak Museum, 1980.
Invernizzi Tettoni, L. & E. Ong, Living in Sarawak, Thames & Hudson, 1996.
Heppell, M., et al, Iban Art: Sexual Selection and Severed Heads, C. Zwartenkot/Kit Publishers, 2005.
Meulenbeld, B.C., et al, Budaya Indonesia: Arts and Crafts in Indonesia, Tropenmuseum, 1988.
Wentholt, A., Nusantara: Highlights from Museum Nusantara Delft, C. Zwartenkot Art Books, 2014.