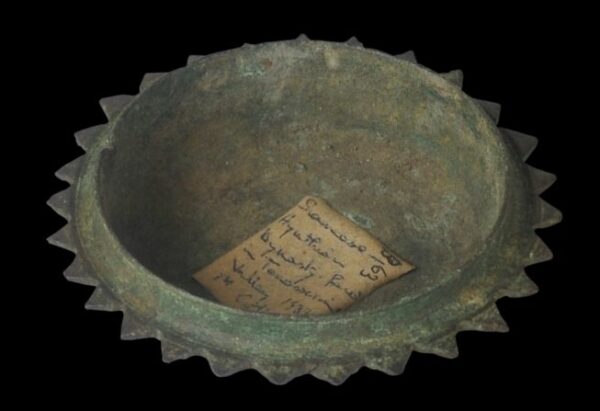 6373
Enquiry about object: 6373
Early Thai Bronze Cosmetics or Medicinal Dish
Tenasserim region, Thailand/Burma circa 14th-15th century
width: 8.6cm, weight: 103g
Provenance
private collection, London. Collected in Burma, in Tenasserim in 1933, by Maurice Collis (1889-1973). Collins entered the Indian Civil Service in 1911 & was posted to Burma in 1912. His postings included Sagaing & Arakan. He served as a district magistrate in Rangoon (1929-1930) and thereafter as Excise Commissioner. He returned to England in 1934 and wrote many books including on Burma.
– scroll down to see further images –
This early bronze dish has a flat base and a dramatically serrated edged border. It is particularly aesthetically pleasing, and dates  to the 14th-15 century.  Probably it was used either to hold a cosmetic powder or perhaps a medicinal ointment. (Lip balm was used relatively early so apply to lips that had cracked through excessive betel use.)
According to a label dated 1933 attached to the inside of the dish (believed to be in Maurice Collis' handwriting), it was found, presumably excavated, in Tenasserim, an area that runs along the southern border between Burma and Thailand. The label states that the pieces are 'Siamese' and are from the Ayutthaya 'dynasty'.
It has an excellent, encrusted, varying green-grey patina and is in very fine condition.
References
Somkiart Lopetcharat, Lopburi and Thavaravadi Sculptures in Thailand, Siam International Book Company, 2015.