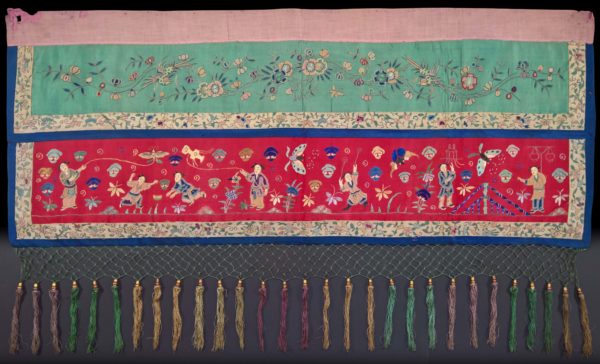 5316
Enquiry about object: 5316
Finely Embroidered Straits Chinese Silk Wedding Valance
Straits Chinese, Straits Settlements (Singapore, Penang, Malacca) circa 1900
width: 95cm, length; 58cm
Sold
Provenance
collected by Alwyn Sidney Haynes (1878-1963), and thence by descent. Haynes was a colonial administrator in Malaya and the Straits Settlements between 1901 and 1934. He held many posts including Acting British Resident, Pahang (1924); British Resident, Perak (1925); British Advisor, Kedah (1925); British Advisor, Kelantan (1930); and Acting Colonial Administrator, Straits Settlements (1933), after which he retired and returned to England, and lived near Stratford-upon-Avon, and then in Leamington Spa. Haynes loaned some of the items he collected in Malaya to the Pitt Rivers Museum in Oxford in 1939. He was awarded an Order of the British Empire (OBE) in 1950.
– scroll down to see further images –
This silk valance (bin ch'ng chai) was used in conjunction with a Straits Chinese wedding and decorated the wedding poster bed or perhaps was hung from the lintel of a door, possibly the door to the bridal chamber.
It comprises two frieze-like sections – in with a green ground and the other in red, as well as cream borders, on pink silk backing. All sections are embroidered and couched with numerous auspicious symbols and imagery including phoenixes, butterflies and frolicking immortals.
Fine, silk netting terminating in silk tassels with gilded wooden weights is suspended from the lower edge of the valance.
The valance is in near-perfect condition, with only some fraying to the top left corner of the backing material. Surprisingly, the suspended silk netting and tassels are in excellent condition without losses or repairs.
A panel of related form is illustrated in Ho (1987, p. 129).
The valance was part of the estate of an English colonial administrator who brought it back to England in the 1930s (or earlier). It has been in the UK ever since.
References
Cheah, H.F., Phoenix Rising: Narratives in Nyonya Beadwork from the Straits Settlements, NUS Press, Singapore, 2010.
Cheah, H.F, Nyonya Needlework: Embroidery and Beadwork in the Peranakan World, Asian Civilisations Museum, 2017.
Cheo, K.B., A Baba Wedding, Marshall Cavendish, 2009.
Ee, R., et al, Peranakan Museum A-Z Guide, Asian Civilisations Museum, 2008.
Ho, W.M., Straits Chinese Beadwork & Embroidery: A Collector's Guide, Times Books International, 1987.
Khoo, J.E., The Straits Chinese: A Cultural History, The Pepin Press, 1996.
Liu, G., From the Family Album: Portraits from the Lee Brothers Studio, Singapore 1910-1925, National Heritage Board/Landmark Books, 1995.