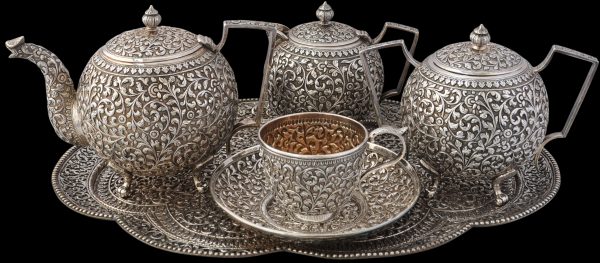 1388
Enquiry about object: 1388
Extremely Fine Six-Piece Silver Teaset
Kutch, India circa 1880
length of tray: 39cm, width of tray: 29cm, length of teapot: 20.5cm, height of teapot: 12.8cm, weight of teapot: 642g; combined weight: 2,463g
Provenance
from a private UK collection
– scroll down to see further images –
This splendid six-piece tea set is a particularly fine example of colonial Indian silversmithing. Each piece is perfectly formed and finely chased with the Islamic-influenced scrolling tendril and flower pattern against a finely tooled background that is typical of Kutch work.
The set comprises a teapot, a sugar bowl, a creamer, a cup and saucer, and a large scalloped tray, all in high-grade, solid silver. Each piece has a pleasing weight in the hand.
The teapot and creamer have hinged lids; the lid of the sugar bowl is not hinged. Each piece sits evenly on four solid-cast zoomorphic feet. The lid of each has a bud-like finial, and each has square-form, chased handles to provide a contrast with the perfect spheres of the bodies of each piece. The spout of the teapot finishes with a parrot-like mouth.
The saucer is over-sized and with high sides. Alone, it is an especially fine piece of workmanship. The cup sits on a low, plain, slightly flared foot and has a perfect 'S'-shaped handle.
The tray has a beaded, scalloped edge with an open-work border. The chasing shown on the tray is of the same high quality exhibited on the tea set and cup and saucer.
None of the main elements has an armorial cartouche – the foliage and flower scrolls continue unbroken right the way round each piece. The tray only has an oval cartouche at its centre and this has been engraved with interlocking initials that appear to be B and D.
The set is not marked but undoubtedly is by one of the leading late nineteenth century Kutch silversmithing firms. Overall, it is a striking and highly decorative ensemble.
The condition is perfect.
References
Dehejia, V., Delight in Design: Indian Silver for the Raj, Mapin, 2008.
Terlinden, C., Mughal Silver Magnificence, Antalga, 1987.