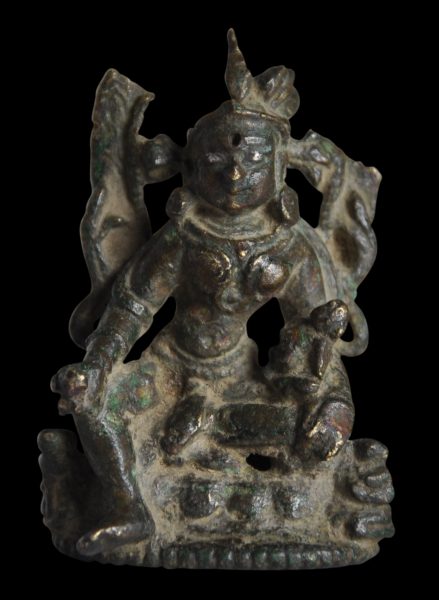 2906
Enquiry about object: 2906
Jain Silver-Inlaid Pala Bronze Image of Ambika
Bihar, Eastern India circa 10th century
height: 5.5cm
– scroll down to see further images –
This fine and very early Jain image of Ambika (or 'Mother') dates to around the tenth century. The goddess is the yaksi or dedicated attendant deity of Neminath, the 22nd Tirthankara.
The goddess is shown here with two arms. In the right hand she holds a mango, one of her identifying attributes. In the other, she holds one of her sons, either Priyankara or Shubhankara. Her full breasts and prominent hips emphasise the 'mother' aspect. The remnants of an aureole rise behind her.
The image has a varied, encrusted patina consistent with great age. Small remnants of silver inlay remain.
References
van Alphen, J., Steps to Liberation: 2,500 Years of Jain Art and Religion, Ethnographic Museum Antwerp, 2000.
Pal, P., The Peaceful Liberators: Jain Art from India, Thames & Hudson/Los Angeles County Museum of Art, 1995.
Pal, P., Art from the Indian Subcontinent: Asian Art at the Norton Simon Museum, Yale University Press, 2003.