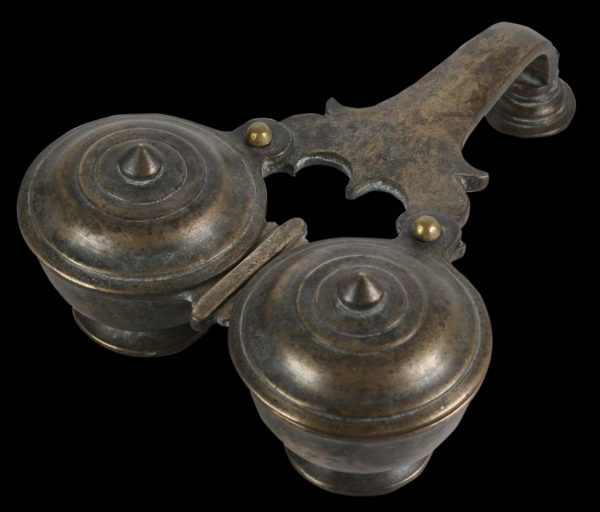 5058
Enquiry about object: 5058
Indian Twin, Lidded Cast Brass Camphor Burner
India 18th-19th century
length: 22cm, width: 16.1cm, height: 7cm
– scroll down to see further images –
This fine brass burner comprises a single handle and balancing foot which leads to two twin burner pan, each of which has a domed cover topped by a bud finial. The lids are attached with swivel rivets.
It was used to burn camphor and other types of incense as part of the Hindu prayer (puja) ritual. At the end of aarti, the lighting of a ghee lamp in front of the deity whilst praying, the devotee might have lit a camphor burner as a further offering to God. The dissipation of the burning scent into the air symbolises the union of the devotee with God.
The burner is in fine condition and is free of any damage. Its contours have been rounded nicely from age and use. The brass has taken on a good, varying patina.
References
Anderson, S., Flames of Devotion: Oil Lamps from South and Southeast Asia and the Himalayas, UCLA Fowler Museum of Cultural History, 2006.
Kelkar, D.G., Lamps of India, Publications Division, Ministry of Information and Broadcasting, India, 1961.
Rawson, P., Tantra, Arts Council of Great Britain, 1971.