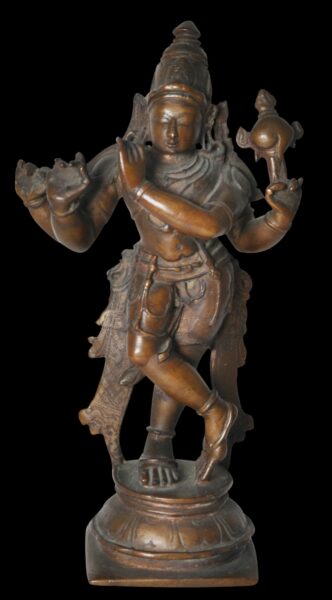 7321
Enquiry about object: 7321
Indian Bronze Krishna Playing the Flute (Venugopala)
South India circa 18th century
height: 17.1cm, width: 9cm, depth: 5.2cm, weight: 910g
This good-sized cast bronze image of Krishna playing his flute (with the flute now missing as is usual) is known as Krishna in his Venugopala form.
The image has two pairs of arms, and the right leg is on its toes beside the left. The two hands in front would have held the flute. One at the rear holds a conch and the other might have held a cakra wheel (now missing), these being among Krishna's identifying attributes.
The figure is cast in typical plump form, with a tall, conical headdress and ample jewellery. Long waist ribbons fall from the figure's hips to the ground.
Krishna stands on a rounded dais etched with lotus petals.
The image has a light chocolate patina and evidence of ritual prayer (puja) wear.
References
Pal, P., Art from the Indian Subcontinent: Asian Art at the Norton Simon Museum, Yale University Press, 2003.