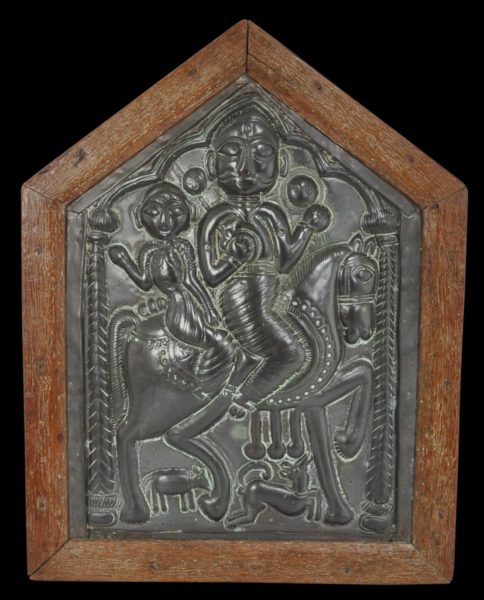 6162
Enquiry about object: 6162
Indian Bronze Plaque of Khandoba & Banai
Maharashtra, India 19th century or earlier
width (including frame): 18.8cm, height: 24cm; width: (without frame); 15cm, height: 19.5cm
– scroll down to see further images –
This bronze plaque shows the deity Khandoba on horseback, with one of the three wives, most probably Banai. The group is shown under a cusped arch and with two dogs.
The plaque has a later wooden frame (which itself has significant age). The frame was possibly added in the UK, perhaps in the 19th century.
Such a plaque would have been used in a Hindi home for family worship.
Khandoba is a manifestation of Shiva worshipped mostly in the Deccan plateau, especially in the Maharashtra. The worship of Khandoba developed during the 9th and 10th centuries from a folk deity into a composite god possessing the attributes of Shiva and various other deities. He is often shown as a warrior astride a bull or a horse.
Khandoba has two principle wives who are women from different communities, who serve as cultural links between the god and those communities. The wives are Mhalsa, from the Lingayat community, and Banai, from the Dhangar (shepherd caste).
A related plaque is in the Musee du Quai Branly in Paris and is illustrated in  Weber (2013, p. 177).
The plaque here is in excellent condition. Its contours have been worn smooth with ritual wear.
References
Weber, J., et al, Sur la Routes des Indes: Un Ingenieur Francais dans le Tamil Nadu, Somogy Editions d'Art, 2013.