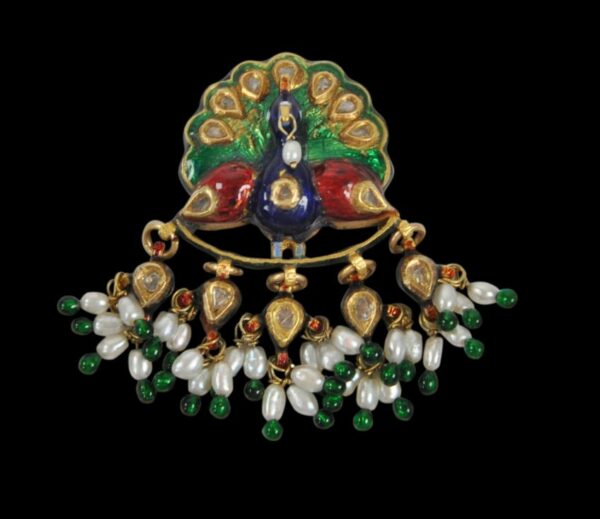 6191
Enquiry about object: 6191
Indian Enamelled Gold Peacock Pendant with Diamonds & Pearls
Northern India circa 1850
width: 3cm, weight: 10.3g
Provenance
private collection, UK.
This beautiful and fine pendant is from northern India and dates to around 1850.
It is of gold and formed as a peacock overlaid on both sides with enamel. It is set with diamonds and decorated with suspended diamonds from which are attached fringes of suspended pearls with emerald beads.
A suspended pearl hangs via gold wire from the mouth of the peacock.
The reverse is decorated with bright enamel work. Two small lugs at the back of the pendant are designed for a fine gold wire to be inserted and both ends of this wire would then be attached to a chain.
References
Sharma, R.D. & M. Varadarajan, Handcrafted Indian Enamel Jewellery, Roli Books, 2004.