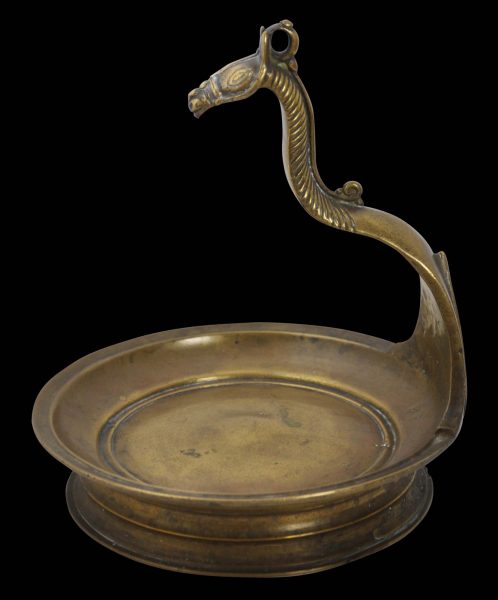 4233
Enquiry about object: 4233
Indian Inscribed Hanging Cast Brass Lamp
Kerala, India 19th-early 20th century
diameter of pan: 17.5cm, height: 18.5cm
This unusual lamp item has a large, round pan for oil and a wick.
The example here is unusual – a horse's head rises over the pan and atop this is a brass loop to allow the lamp to be suspended from a chain.
The back section of the support that terminates with the horse's head has a triangular plain section that is engraved with a short section of Malayalam script, the main script used in Kerala. Probably, this is an ownership mark.  These were used on more substantial household goods in larger houses of extended families so that property rights and thus inheritance rights were clear.
The burner has been cast as one piece and is free of any damage.
References
Anderson, S., Flames of Devotion: Oil Lamps from South and Southeast Asia and the Himalayas, UCLA Fowler Museum of Cultural History, 2006.
Kelkar, D.G., Lamps of India, Publications Division, Ministry of Information and Broadcasting, India, 1961.
Rawson, P., Tantra, Arts Council of Great Britain, 1971.