– scroll down to see further images –
This extraordinary pair of silver candle vases or stands are made almost entire from silver filigree. The work is Indian, but made for the English export market, and dates to around 1770, but their form is based on designs by the English designer and inventor  Matthew Boulton.  The design with its distinctive goat-headed, baluster form, can be seen in Matthew Boulton pattern books, though typically they were executed in blue-john stone and ormolu. (Such a pair of George III blue-john stone and ormolu candle vases by Matthew Boulton, circa 1770, sold as lot 144 at Christie's New York in October 2010.) Another pair of gilded silver and blue-john stone is in the Royal Collection of Queen Elizabeth II and is illustrated in Mason (2009, p. 160).
Most likely, the examples here are the work of Karimnagar silver filigree workers working in the Deccan. These workers, who were Muslim men, produced some of the finest articles in silver filigree ever made. Typically, the output of these workers was for aristocratic Indian consumption – items such as expensive rosewater sprinklers and paan or betel boxes . The candle vases here are remarkable because they are entirely based on English design, form and function.
Each vase has a finial candle-holder above an amphora-shaped body draped with swags and decorated by a pair of ram's heads. The bodies of each rise from a square stepped plinth.
The supports for the bodies are of plain cast silver, as are the bodies themselves beneath the outer filigree layers.
Rings around the middles of the candle holder finials and at their base are gilded (gold-plated) providing a pleasing contrast with the silver.
The filigree on the bodies of each comprises a series of concentric circles in fine, tight filigree, within arabesque-shaped cartouches arrayed in trellis formation. Elsewhere, the filigree is arrayed as borders, petals and acanthus leaf motifs.  (The construction and parcel gilding is similar to a parcel-gilded silver filigree casket and case illustrated in Jordan (1996, p. 219) which is attributed to late seventeenth century India.)
Matthew Boulton (1728-1809) was a highly influential Birmingham-based, English designer and manufacturer of metal products, both industrial and ornamental. His ornamental designs included silverware and items mounted with ormolu, previously a French speciality, whereby elaborate metal fittings were gold plated with mercury-fired milled gold.
Overall, this pair of candle vases tells a remarkable tale of late 18th century cross-cultural exchange, whereby very English designs were picked up by Indian Muslim silver workers more adept at producing betel boxes and the like for the local market. They are remarkable in every aspect.
A related pair, sold by us and now in the Musee des Arts Decoratifs et l'Ocean Indien, Reunion, is illustrated in Tchakaloff (2018, p. 91). Another pair is in the collection of the National Trust-managed English country house Knole, in the county of Kent, which was the ancestral seat pf the aristocratic Sackville family. Importantly, this pair is in the company of group of other silver filigree items (pictured) all of which are noticeably from India further confirming the Indian provenance of this type of silver filigree candle vase.
The pair here is in very fine condition. There is no loss or damage to the filigree on the bodies of the vases. There is some very minor loss to the filigree on one side of the foot of one but this is stable and barely apparent. (Most extant examples have at least some loss.) They are very decorative and tell a wonderful story of East-West trade and commercial cooperation.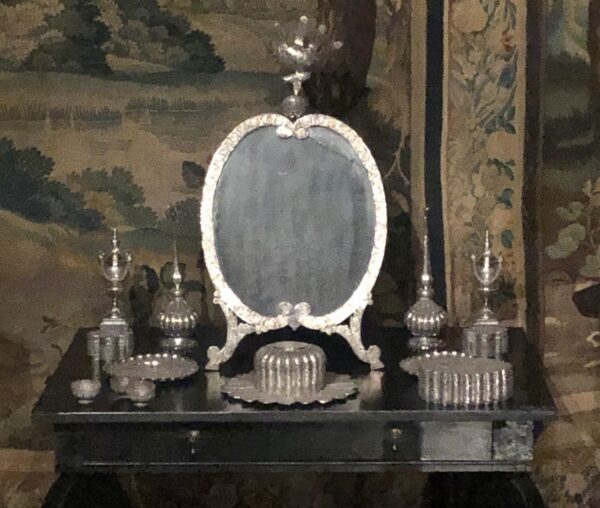 (Above) The filigree display in the stately 'Venetian' bedroom at Knole, Kent, UK. The related filigree candle vases can be seen at the back on either side of the filigree-framed mirror.
References
Jordan, A. et al, The Heritage of Rauluchantim, Museu de Sao Roque, 1996.
Mason, S. (ed.), Matthew Boulton: Selling What all the World Desires, Birmingham City Council/Yale University Press, 2009.
Parton, F., Knole, Kent, National Trust, 2019.
Piotrovsky, M. et al, Silver: Wonders from the East – Filigree of the Tsars, Lund Humphries/Hermitage Amsterdam, 2006.
Tchakaloff, T.N., Recontrer l'Autre?: XVI-XVIII Siecles, Musee des Arts Decoratifs et du Design, 2018.
Terlinden, C., Mughal Silver Magnificence, Antalga, 1987.
Zebrowski, M., Gold, Silver & Bronze from Mughal India, Alexandria Press, 1997.