– scroll down to see further images –
This small, decorative silver box is of flattened, round form. It has a tightly fitting, domed lid. The lid is repoussed in high relief with a commercial, local flat-bottomed sailing boat typically seen playing the Irrawaddy River. The sides are decorated with village scenes including a farmer ploughing with oxen, an elephant and rider and farmers tending to their rice.
The important aspect of this box is the inscription on the base: 'Presented by Hon'ble U Nu, Prime Minister of Burma, 1957'.
The inscription both dates this box (it shows the continuation of Burmese silversmithing throughout the decades of the 20th century), but also links it to U Nu (b. 1907-1995; pictured below), Burma's first post-colonial prime minister, and ultimately prime minister three times. He was the first Prime Minister from 1948 to 1956, again from 1957 to 1958, and finally from 1960 to 1962. He first became prime minister in the wake of the assassination of Ang San.
The box is in excellent condition.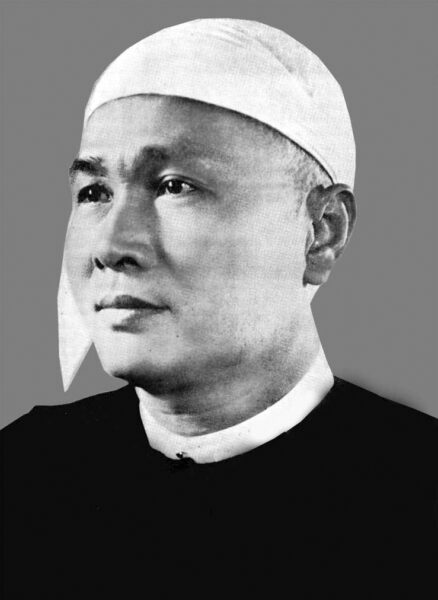 References
Owens, D.C., Burmese Silver Art: Masterpieces Illuminating Buddhist, Hindu and Mythological Stories of Purpose and Wisdom, Marshall Cavendish Editions, 2020.