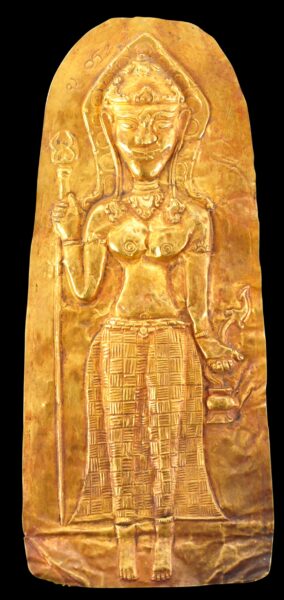 8633
Enquiry about object: 8633
Javanese Inscribed Votive Gold Shiva Plaque
Central Java, Indonesia 9th century
length: 18.6cm, width: 8.2cm, weight: 33g
Provenance
Estate Collection of Tom White MBE, a former UK diplomat who served in Southeast Asia in the 1960s & 1970s.
– scroll down to see further images –
This hammered gold plaque was made as a votive offering. It is straight at the bottom and arched at the top. It shows Shiva, with a brief inscription. Shiva has two arms and stands in samapada, with both feet side by side. He holds a trident or trisula in his right hand and a water vessel or kamandalu in his left. A spoon with a long, leafy handle emerges from the kamandalu. Shiva wears an arched crown on his head, and other ornaments.  An arched halo traces out the outline of the head and neck. A prominent waist cloth or dhoti reaches from the waist to the ankles and it is decorated with a pattern of squares that alternate between vertical and horizontal stripes.
On the left of the plaque, near Shiva's head, are two (or three) syllables of engraved text, possibly the donor's name.
A handful of such plaques are known. A related example, also previously in the Tom White Collection, is illustrated in Polak (2022, p. 100).
The plaque is in fine condition. Minor pinprick holes are here and there, as might be expected. The plaque is of good size. It is heavy for its size, and the age is obvious. The gold is at least 22 carats.
References
Polak, J., Ancient Indonesian Gold of the Central and Eastern Javanese Periods 750-1550: A Selection, C. Zwartenkot Art Books, 2022.