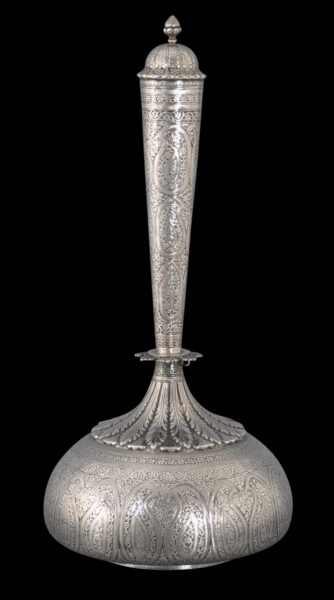 6996
Enquiry about object: 6996
Kashmir Tall Silver Flask
Colonial Silver Kashmir Indian Flask circa 1870
diameter: approximately 14cm, height: 30.2cm, weight: 518g
This finely-made silver water flask sits on a low ring foot, has a flattened bell-shaped body, with a flattened base, a thin tapering neck, and a domed stopper surmounted by a bud finial.
The body, neck and stopper are finely chased all over with meandering floral and foliage designs based on that of coriander plant. This 'coriander' pattern is very typical of colonial Kashmiri silverwork. Such items were made to be sold locally, to the expatriate colonial market, but also for export to London and elsewhere.
The top of the base is chased with a wonderful, wide border of acanthus leaves. There is also a decorative, leafy collar around the lower part of the neck.
The form of such flasks was based on the surahi or surai  flasks that were placed on dining tables during large banquets in Mughal and northern India to hold drinking water to which diners could help themselves.
The example here is in excellent condition. It is free from dents, splits or repairs. It is an unusually good example.
References
Dehejia, V.,  Delight in Design: Indian Silver for the Raj, Mapin, 2008.
Watt, G., Indian Art at Delhi 1903, Being the Official Catalogue of the Delhi Exhibition, 1902-1903, Superintendent of Government Printing, India, 1903.