This very fine necklace is from Yemen, from the Khawlan Sanaa region, a tribal area in the northeast of Sanaa province.  It is an unusually large and showy example.
Such necklaces usually were reserved for wear at weddings and other important life festivities. Brides often were presented with such necklaces which they subsequently regarded as among their most important jewellery.
It comprises dozens of old original coral beads, silver beads, and large plaque components decorated with filigree work, applied bells, spangles and pendants. There is one large central circular pendant plaque known as a anbarsha or warda medallion Ransom (2014, p. 65).
The main silver elements have remnants of gilding (gold plating). One of the subsidiary tear-shaped pendant plaques is larger than the rest but it is in the same style and seems to be original.
There are also two old silver Arabic coins attached.
The colour of the coral was felt to symbolise youth and beauty. Corals were also believed to staunch bleeding. Such necklaces were worn by local Bedouin and by local Yemenite Jewish women.
A related example is illustrated in Ransom (2014, p. 50).
The necklace is stable.  There are only minor losses here and there, which are to be expected given the age of the necklace and that it has been worn. The necklace is suspended from its original cotton plaited stringing. An additional chain could be added to make the necklace more wearable today.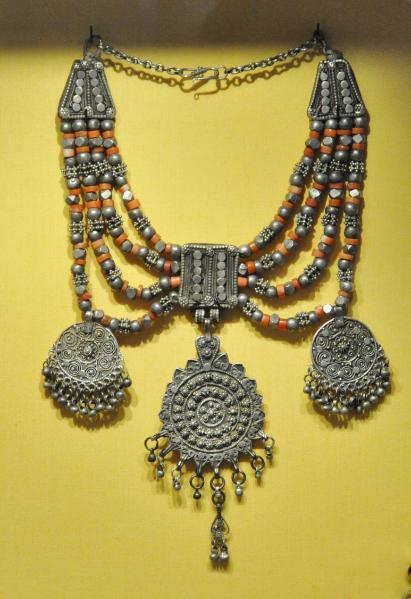 above: A related but less complex Yemeni necklace on display in the Islamic Art Museum of Malaysia. (Photographed February 2017).
References
Ben-Ami, A. (ed.), In All Their Finery: Jewels from the Jewish World, The Israel Museum, Jerusalem, 2002.
Borel, F., The Splendour of Ethnic Jewelry: From the Colette and Jean-Pierre Ghysels Collection, Thames & Hudson, 1994.
Hoek, C., et al, Ethnic Jewellery: From Africa, Asia and Pacific Islands, Pepin Press, 2004.
Ransom, M., Silver Treasures from the Land of Sheba: Regional Yemeni Jewelry, AUC Press, 2014.
Seiwert, W.D., Jewellery from the Orient: Treasures from the Bir Collection, Arnoldsche Art Publishers, 2009.