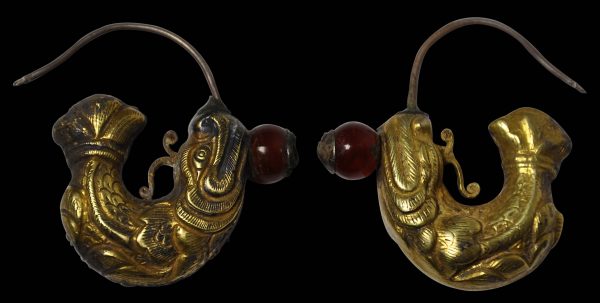 2491
Enquiry about object: 2491
Liao Dynasty Gilded Silver Dragon Fish-Shaped Earrings
China Liao Dynasty, 10-12th century
width: 3.5cm, height: 3.5cm combined weight: 11g
Provenance
private collection, UK
This pair of earrings in the hollow-form of fleshy, 'U'-shaped dragon fish has been executed from silver and then plated in gold (gilded). A spherical amber-coloured glass bead has been attached to the under-jaw of each fish to make it appear as if the fish is chasing a pearl (or in this case a red bead.)
The fish are finely rendered with superb detail, including fine scales, prominent lips and ogling eyes.
Wires have been attached to the snouts of each fish to allow the earring to be threaded through the ear lobe.
The bodies of the earrings were made by soldering together to halves fashioned from hammered silver.
Shen (2006, p. 151) argues that such earrings are makara-like and so might reflect long distance ties between West Asia and the Liao empire, and the influence of Etruscan and late Byzantine prototypes. The 'U' shape is typical of body ornaments worn by the Khitan people, a nomadic Mongolian people who settled and formed the Liao empire.
An almost identical gold pair minus the glass beads is in China's Liaoning Museum, and illustrated in Liu (2008, p. 190). The Museum's pair were excavated in 1956 from a Liao tomb at Wangfugao village, Jianping County, Liaoning Province. Similar examples are illustrated in Shen (2006, p. 151) and White & Bunker (1994, p. 158).
References
Liu, Y. (ed.), Liaoning Museum, Chang Zheng Publishers, 2008.
Shen, H.N. (ed.), Gilded Splendor: Treasures of China's Liao Empire (907-1125), 5 Continents, 2006.
White, J.M. & E.C. Bunker, Adornment for Eternity: Status and Rank in Chinese Ornament, Denver Art Museum/The Woods Publishing Company, 1994.