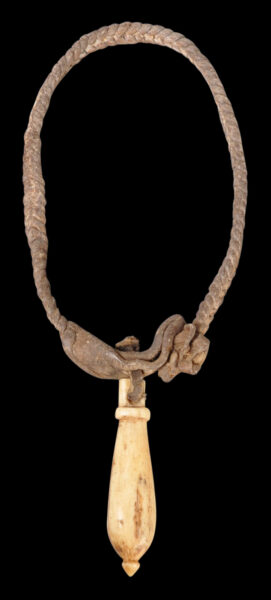 6991
Enquiry about object: 6991
Maasai Bone Pendant & Braided Leather Necklace
Maasai People,  Kenya & northern Tanzania early 20th century
length of pendant: 7.7cm, circumference: approximately 35cm, weight: 45g
– scroll down to see further images –
This carved bone pendant suspended from a braided leather tie is from the Maasai people of  Kenya and northern Tanzania.
The pendant has a pleasing, elongated shape, perhaps based on the shape of a teat, which seems likely given the traditional Maasai dependence on milk in the diet.
Related examples of necklaces with such pendants are illustrated in Grootaers & Eisenburger (2002, p. 322) who report that the Masai traditionally tied such bone pendants with braided leather thongs to rams to protect them against disease and as a fertility talisman.
Traditionally, the Maasai have led a semi-nomadic lifestyle. They were pastoralists and kept cattle and sheep. The Maasai diet consisted primarily of raw meat, milk, honey and raw blood from cattle.
The pendant here is in fine condition and has a good weight. The braided leather shows good age and wear. The leather has been further secured to the pendant with a small piece of wire.
References
Grootaers, J. L. & I. Eisenburger, Forms of Wonderment: The History and Collections of the Afrika Museum, Berg en Dal, 2002.