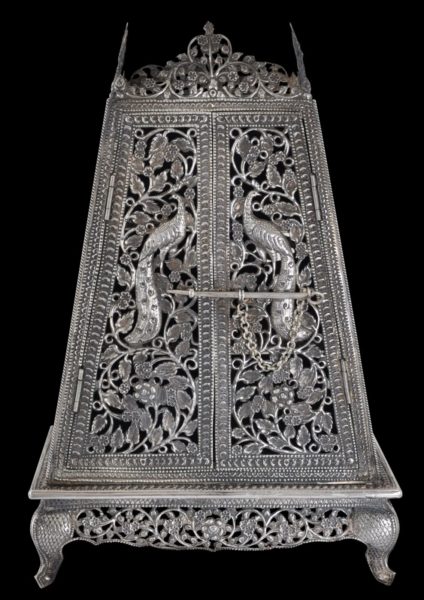 6388
Enquiry about object: 6388
Magnificent, Pierced, Chased, Miniature Silver Thai Manuscript (Dharma) Cabinet
Thailand circa 1920
height: 32cm, width: 20.5cm, depth: 14cm, weight: 1,729g
Provenance
private collection
– scroll down to see further images –
This miniature dharma cabinet is made of solid silver. The sides slope inwards in the manner of full-sized lacquered, wooden cabinets used in temples and monasteries to hold prayer books and other religious paraphernalia.
All sides are pieced and chased with the most remarkable detail. The front has two doors that are decorated with a pair of facing male peacocks amid copious scrolling foliage and flowers. The sides are similarly decorated with floral and foliage scrolls,. The back also is similarly decorated along with a pair of humming birds in flight.
The cabinet sits on four cabriole legs etched with feather-like decoration. The legs are joined by elaborate, pierced skirtings. These are mirrored by equally elaborate crested friezes atop the cabinet, with flame or kranok motifs at the corners.
The doors are hinged and are secured with a silver pin and chain. The doors open to reveal three silver shelves each finely cased with tree-of-life type scrollwork. The shelves are far finer than they needed to be providing a testament to the high quality of this cabinet and to the silversmith's skills.
It is likely that the cabinet was a commission, perhaps to adorn a private altar of an aristocratic home.
The piercing and chasing on the cabinet mirrors real life examples.  The image below shows carved decoration on display at Bangkok's Suan Pakkad Palace and which dates to around 1800. The cabinet here seems to draw on such woodwork.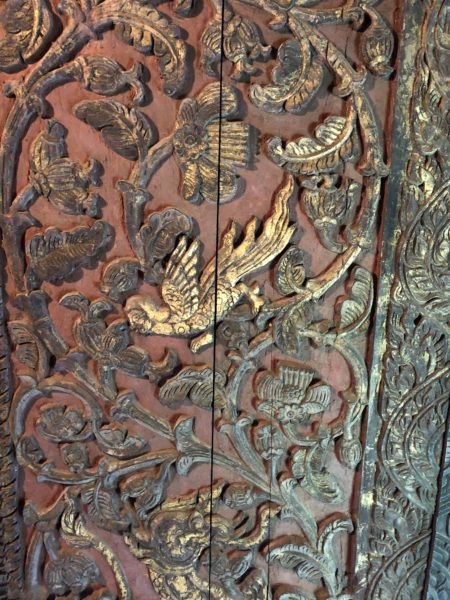 The final image below shows a cabinet that is in Bangkok's national Museum, also carved in high relief, and with traditional sloping sides. The cabinet dates to the Ayutthaya period.
The miniature silver chest here is in excellent condition.
References
Bromberg, P., Thai Silver and Nielloware, River Books, 2019.
Diskul, M.C.S., et al, The Suan Pakkad Palace Collection, The Home of Princess Chumbhot of Nagara Svarga, 1982.
Srisamarn, T., et al., Thai Minor Arts, The Fine Arts Department, Thailand, 1993.